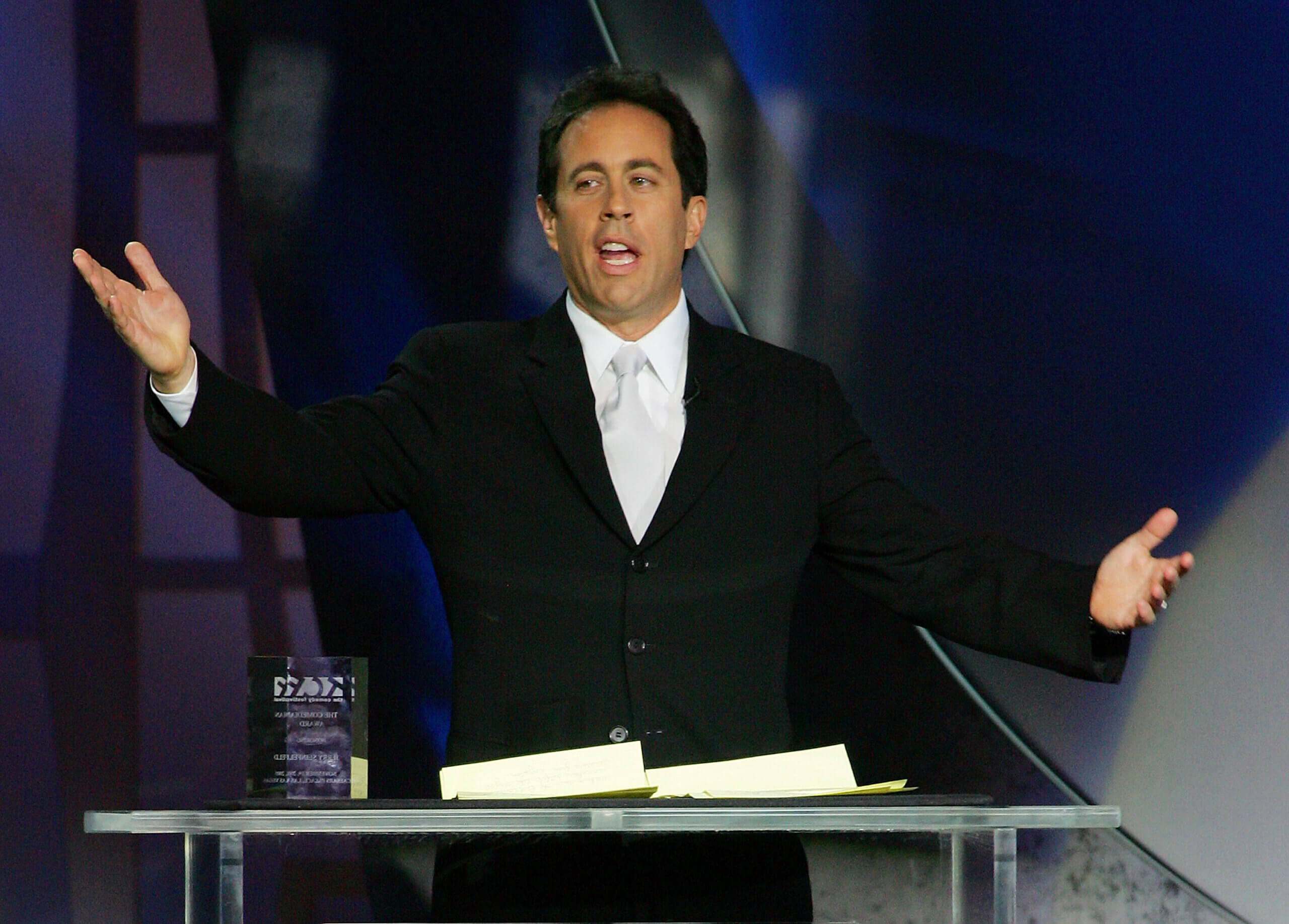 ייִדן שטאָלצירן מער מיט זייערע נאָבעל־פּרײַז־געווינער ווי מיט זייערע קאָמעדיאַנטן, און אפֿשר מיט רעכט. אונדזערע וויסנשאַפֿטלער האָבן טאַקע געשפּאָלטן דעם אַטאָם און אויסגעהיילט פּאָליאָ. אָבער אונדזערע קאָמעדיאַנטן קומט אויך אַ דאַנק: בײַ מיליאָנען מענטשן היילן זיי אויס די מרה־שחורה און פּחד. זיי זײַנען וויסנשאַפֿטלער פֿון דער נשמה און פֿונעם געמיט.
דער הומאָר איז געוואָרן חשובֿ בײַ ייִדן פּונקט ווי ייִדן זײַנען חשובֿ פֿאַרן הומאָר. לויט אַן אַנקעטע פֿון 2021 פֿונעם "פּיו פֿאָרשונג־צענטער" (Pew Research Center) האַלטן 34% פֿון אַמעריקאַנער ייִדן, אַז אַ גוטער חוש פֿון הומאָר איז אַ מוז פֿאַר ייִדן. אין פֿאַרגלײַך, האַלטן בלויז 15%, אַז די הלכה איז אַ מוז. בײַ די נישט־אָרטאָדאָקסן, הייסט עס, וועגט דער הומאָר איבער די הלכה.
קוקנדיק אויף צוריק, איז דער גרויסער פּראָצענט ייִדישע קאָמיקער נשתּומם צו ווערן. אין אַ רשימה פֿון די הונדערט בעסטע אַמעריקאַנער סטענדאַפּ־קאָמעדיאַנטן, וואָס דער טעלעוויזיע־קאַנאַל Comedy Central האָט אַרויסגעלאָזט אין 2005, זײַנען איבער אַ דריטל פֿון די נעמען ייִדישע. פֿון די 1970ער יאָרן האָב איך געלייענט אַ שאַצונג, אַז ביז צו 80% פֿון די סטענדאַפּ־קאָמעדיאַנטן זײַנען געווען ייִדן. ווי איז דאָס מעגלעך? אַ סך פֿון די נעמען זײַנען נאָך באַקאַנט ווי למשל לעני ברוס, דזשאָון ריווערס און דזשערי סײַנפֿעלד. דער עלטערער דור געדענקט נאָך דזשעק בעני, מילטאָן בערל און סיד סיזער. זיי זײַנען געשטאַנען בײַ דער וויג פֿון דער טעלעוויזיע אין די 1950ער יאָרן, ווען עס זײַנען געווען בלויז דרײַ נאַציאָנאַלע קאַנאַלן. יעדע וואָך האָבן זיי פֿאַרווײַלט צענדליקער מיליאָנען מענטשן, מער ווי אַלע הײַנטיקע פּראָגראַמען.
הײַנט שפּילן ייִדן אויך אַ חשובֿע ראָלע אין דער קאָמעדיע־בראַנזשע. לערי דייוויד מאַכט נאָך זײַן סעריע Curb Your Enthusiasm. מיט אַ פּאָר יאָר צוריק זײַנען געווען עטלעכע סעריעס פֿונעם ייִנגערן דור ווי Broad City פֿון אילנה גלעזער און אַבי דזשייקאָבסאָן, און My Crazy Ex-Girlfriend פֿון רחל בלום. זיי שפּיגלען אָפּ דאָס לעבן פֿון אַ סך מאָדערנע יונגע ייִדישע פֿרויען (און מענער) אין דער גרויסער שטאָט: וועלטלעך, מולטיקולטורעל, סעקסועל, און באַרירן פֿון צײַט צו צײַט ייִדישע טעמעס.
איין סעריע איז ספּעציעל אינטערעסאַנט פֿאַר דער געשיכטע פֿון ייִדן אין דער קאָמעדיע־בראַנזשע: "די וווּנדערלעכע פֿרוי מייזל" (The Marvelous Mrs. Maisel). דאָס האַנדלט זיך וועגן דער "גאָלדענער תּקופֿה" פֿון ייִדישע קאָמעדיאַנטן אין די 1950ער און 1960ער, ווען דער מאָדערנער סטענדאַפּ־קאָמעדיע איז אויפֿגעקומען. די סעריע איז פּרעכטיק שיין, אַ מחיה צו קוקן, און האָט אויסגענומען בײַ די קריטיקערס, געוווּנען אַ סך פּרעמיעס. אָבער "מייזל" איז אויך אַ פֿאַרשענערט, נאָסטאַלגיש בילד פֿון אַ וועלט, וואָס איז מער נישטאָ. דער הײַנטיקער עולם (אָדער אַ חלק דערפֿון) פֿאַרבענקט זיך נאָך יענער תּקופֿה, ווען די ייִדישע עטנישקייט איז נאָך געווען אַ פֿעסטער יסוד און די ייִדישע קאָמעדיאַנטן האָבן דאָמינירט דעם עקראַן. אינעם גרויסן ים פֿון דער קאָמעדיע הײַנט, ווידער, שווימען די ייִדן אַרום ווי קליינע פֿישעלעך — אָדער אַ מאָל גרעסערע, אָבער שוין אַלטע.
וואָס איז געשען? ערשטנס, איז די קאָמעדיע־וועלט געוואָרן אָן אַ שיעור גרעסער און מער פֿאַרשיידן. די קאָמיקערס שטאַמען פֿון כּלערליי גרופּעס און פֿעלקער, נישט בלויז אַמעריקאַנער, נאָר פֿון אַלע לענדער און קאָנטינענטן. די קאָמעדיע איז געוואָרן אַ גלאָבאַלע אינדוסטריע, און די ייִדן זײַנען אַ קליין פֿאָלק. אַפֿילו אין די פֿאַראייניקטע שטאַטן איז דער פּראָצענט ייִדן געפֿאַלן פֿון כּמעט 4% אין דער "גאָלדענער תּקופֿה" ביז 2.4% הײַנט.
כאָטש קיין פֿאָרשונג וועגן דער פֿראַגע איז ניטאָ, דאַכט זיך, אַז די ייִדן האָבן אויך אַ ביסל פֿאַרלוירן זייער חוש פֿון הומאָר. דעמאָלט האָבן מיר זיך געשלאָגן מיט דאגת-פּרנסה, מיט אַנטיסעמיטיזם, מיטן שווערן לעבן פֿון פֿרישע אימיגראַנטן — האָט דער הומאָר פֿונקציאָנירט בײַ אונדז ווי אַ מין רפֿואה, ווי אַ מיטל צו דערפֿרייען די נשמה. ס'איז געווען נייטיק ווי דאָס לעבן, ווי ברויט און וואַסער. הײַנט האָבן ייִדן אַנדערע צרות און אַנדערע רפֿואות. אינעם הומאָר נייטיקט מען זיך נישט אַזוי שטאַרק.
קוקנדיק אויף צוריק, זעט די "גאָלדענע תּקופֿה" פֿון דער ייִדישער קאָמעדיע אויס ווי אַ שטיקל נס. ווי קען מען אַזוינס דערקלערן? ווען די מאָדערנע קאָמעדיע איז אויפֿגעקומען, ספּעציעל אין ניו־יאָרק און קאַליפֿאָרניע, זײַנען געווען גענוג טאַלאַנטירטע יונגע ייִדן, וואָס האָבן געשאַפֿן אַ מין קולטורעלן אַוואַנגאַרד. זיי זײַנען געווען צווישן די ערשטע און האָבן געהאַט "די מעלה פֿונעם ערשטן" (first-mover advantage), ווי דאָס הייסט אין מאַרקעטינג. מיט זייער דרויסנדיקער פּערספּעקטיוו און זייער באַלדיקער פּאָפּולערקייט אין דער נײַער מעדיע, האָבן זיי געשאַפֿן אַ נאָכפֿרעג נאָך זייער סטיל קאָמעדיע בײַם ברייטן עולם, וואָס האַלט אָן אין אַ געוויסער מאָס ביז הײַנט.
לאָמיר זיי זאָגן אַ דאַנק: ס'איז נישט קיין געלעכטער!
The post Where have all the Jewish comedians gone? appeared first on The Forward.