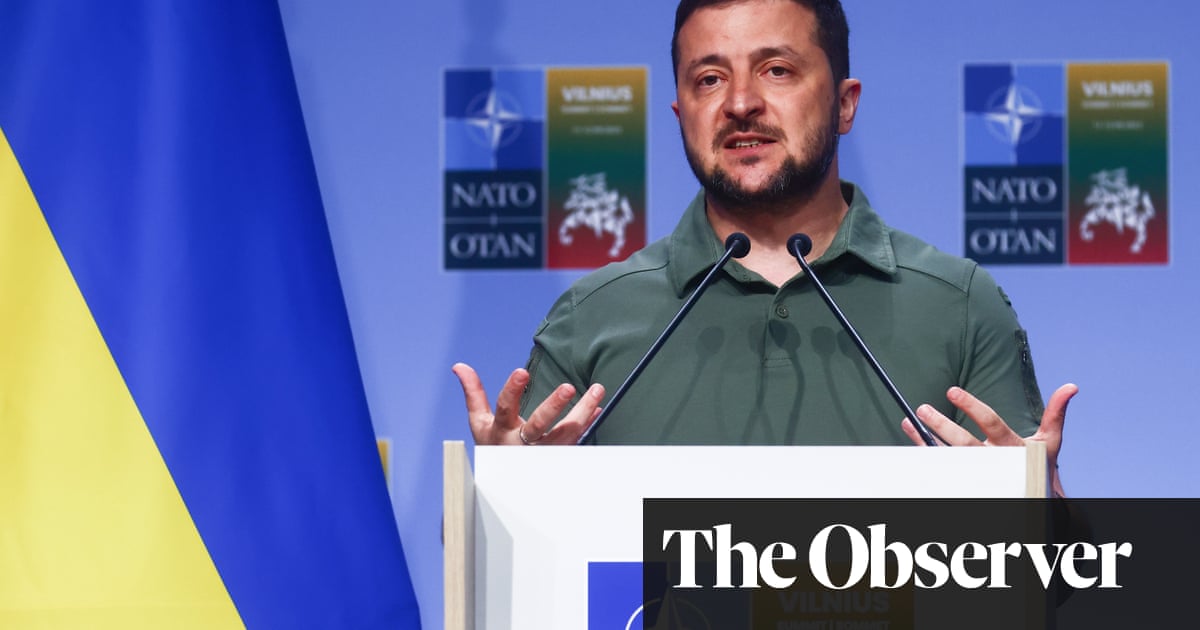 I live in Kyiv and if your readers are under the impression that this Nato summit was a bit dysfunctional, you can only imagine what a mess it was in the eyes of the Ukrainian public ('The world's most powerful alliance should do better. Vilnius was a letdown", Editorial).
Expectations were high, not least because it was taking place in Lithuania, a country that's been a great friend to Ukraine long before this war. There were hopes that maybe it was all coming together in these terrible taxing times and there will finally be some good news.
It could have been just that with better diplomacy and coordination. Volodymyr Zelenskiy has emphasised numerous times that no one in Ukraine is expecting Nato to accept us during the war. What he was asking for was a statement that we will be invited as soon as the victory (or peace deal) is achieved.
Nato could have promised to start negotiations as soon as the war is over, which would still be comfortably non-committal; negotiations can take time and even produce a negative result, but would be seen as a major step forward in the relationship. As for achieving "Nato standards", we are already doing our extensive homework regarding the EU candidacy, so with a bit of political will these two processes could have been formally or informally tied together. Instead, we got the bureaucratic definitions that were arguably worse than those of the 2008 Bucharest summit (a "yearly evaluation programme"? How many years should it take?).
Then there was Ben Wallace adding insult to injury. It created a narrative about the lack of gratitude, which is untrue. We are very grateful and we say that a lot. In conclusion, what's done is done, so let's hope the next summit will be more productive.
Sergiy Mishchen
Kyiv, Ukraine
In this proxy war in Ukraine, Russia and Nato are eyeball to eyeball and Joe Biden just blinked. Since the geopolitical question that provoked this war is whether Russia will be denied a say on the political future of Ukraine and its integration in western structures, the exclusion of Ukraine from Nato equals an unmitigated defeat for the west and a clear victory for Putin. After all, wasn't that his primary war objective in the first place?
This war was lost long before it started. If Ukraine had received the military aid in 2014 after the occupation of Crimea that it is getting now, the Russians would never have dared an adventure against a well-armed adversary. Ejecting the Russians is rapidly proving a fool's errand. Who allowed an unwinnable war? Who lost Ukraine?
Antonis Charakidas
Athens, Greece
Starmer's wise missions
I agree with Keir Starmer ("Promising vast sums of money won't fix things. Britain needs an electric jolt to shake it from its Tory torpor", News). His five missions for government are wise, and his desire for reform and growth necessary.
The Brexit Tories have all but destroyed the economy. Labour, after it hopefully takes power next year, will have to mend the mess, and that won't be as simple as spending its way out of the crisis straight away. I hope it will, before long, spend more on public services, but its priority on the economy must initially be to steady the ship and resolve the many ills they will have inherited. Finally, I am glad the climate emergency is being picked up on and discussed by the party, for this must be of paramount importance when it takes office.
Sebastian Monblat
Surbiton, London
Horizon's benefits run deep
The EU's Horizon Europe programme embraces more than the physical sciences, it also funds the pursuit of knowledge in the arts, humanities and social sciences ("There's hope for British science on the Horizon programme, if the PM can see it", Editorial).
My own former university colleagues took part in, or led, interdisciplinary research projects that explored, among others, the conservation of tangible and intangible European cultural heritage in a digital age; the preservation and – often contested – memorialising of landscapes of conflict and empire; innovative uses for digital cultural content by the creative industries, in fields ranging from dance to copyright law to social history to new technologies – and with research partners from Lithuania to La Réunion. These projects have furnished invaluable evidence for new inclusive policies and practices by European museums, arts and heritage agencies.
The humanities enable us to reflect on our common identities, as well as our fractured and conflict-ridden histories, and the Horizon programme offered scholars, researchers and practitioners the extraordinary opportunity to do this in collaborations across boundaries of nation, language, culture and discipline.
Brexit brought these collaborations almost to a standstill: the loss to national and international scholarship has been great, as has the loss of income to UK research institutions.
In debates about the future of the UK's involvement in Horizon, it's essential that the narrow definition of science that now seems to prevail in the UK be broadened again to embrace all forms of knowledge, as in Europe. Nuclear fusion may well be vital to the future of humanity, but in a world which is seeing the advance of new nationalisms and bigotries, so is full knowledge and understanding of ourselves, our histories and what binds us.
Marion Doyen
Leamington Spa, Warwickshire
An inhumane asylum system
I congratulate Lord Dubs and the many other humane members of the House of Lords, including Justin Welby, on their courageous stance against the government and this appalling illegal migration bill ("The illegal migration bill is a nasty piece of work. So is the cruelty inflicted on refugee children", Comment).
I work as a solicitor specialising in asylum and every day witness inefficiency in the way the Home Office deals with asylum cases. Five years ago, it was not uncommon to receive an asylum decision in six weeks. Today, I am working on my fifth and sixth judicial review application in cases which have been delayed for well over a year.
The Home Office claims to have to use hotels to house asylum claimants because of a housing shortage and yet many of my clients who have been granted asylum remain in Home Office accommodation months later because they have not received a termination letter. In some cases I have to write to the Home Office contractors Mears to ask for a termination letter as the granted asylum seekers want to move on but cannot do so. The Home Office's statutory obligation is to ask asylum seekers who have a decision to leave Home Office accommodation in 28 days. During Covid they understandably and correctly delayed moving people out but there seems no need for this approach to continue in a so-called housing shortage. The planned use of barges and the £1.7bn contract to provide them is inhumane and unnecessary.
Sam Creighton
Belfast
The BBC is worth defending
I worked as a presenter for the BBC for many years. I was mightily proud to work for the BBC which I saw, and still see, as the finest public broadcaster in the world.
Over the years I watched the sniping from politicians of both major parties and saw it for what it was: an attempt to keep the truth from the nation. I have also watched the Murdoch press and its fellow travellers, the Mail and Express, hurl mud at every opportunity. Had Huw Edwards been working for M&S or John Lewis would the terrible, unfounded attack on the man have been called an "M&S crisis" or a "John Lewis storm"?
Andrew Rawnsley, in his measured piece, spoke for many of us who have worked for and love the BBC, but it comes nowhere near the rage that I and many others feel, knowing that we stand a fair chance of losing it for ever ("Let's be clear about why the Tories are so keen to exploit the travails of the BBC", Comment). If it does go then Britain will become not just diminished, but unrecognisable.
Mike Harding
Settle, North Yorkshire
Kundera's vision of Europe
Kenan Malik's article on the wonderful Milan Kundera ("It's in Milan Kundera's ambiguities and contradictions that we find his truths", Comment) raised interesting questions about the author's viewpoint and his striking phrase "maximum diversity in minimum space".
Some of the early proponents of a united Europe saw it as a union of regions rather than nations. In many ways this is what is happening with 105 economic areas and 260 regions of the EU. As an English socialist, I see Scotland's bid for independence not in nationalist terms but as a natural and welcome move towards the whole of Europe becoming effectively regionalised and thus protecting and enhancing "community and democracy".
Stephen Dorril
Holmfirth, West Yorkshire