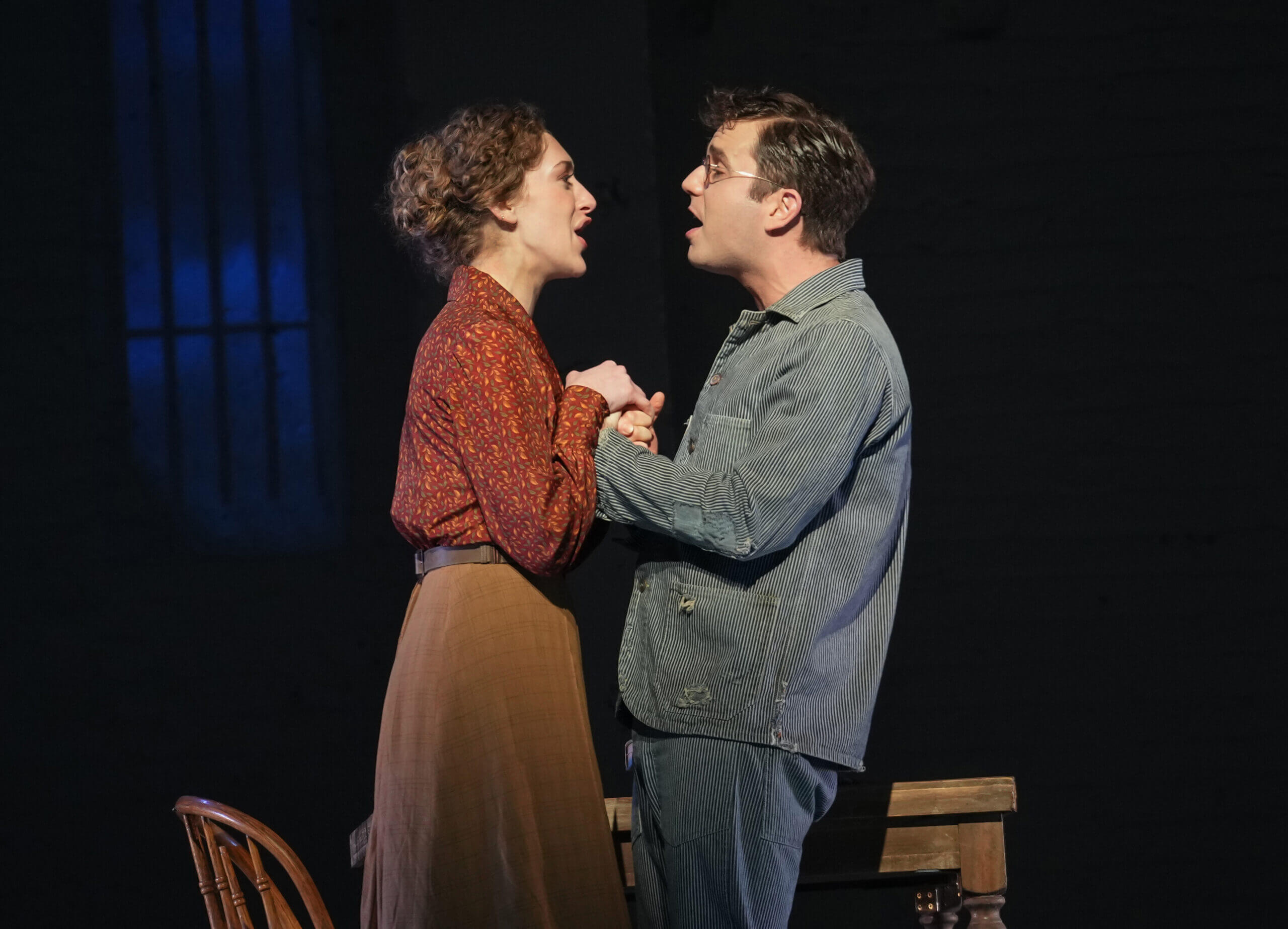 Well, it sure looked like Lea Michele was reading — and a not inconsiderable amount of Jewish names.
On Tuesday, Michele and Myles Frost announced the Tony Awards picks for Broadway's best, nominating plays about Jewish martyrs, a new take on a doomed salesman and a lot of love for a late legend of musical theater. Given the season's slate, which had no jubilant celebration of Yiddishkeit a la last year's Funny Girl or Mr. Saturday Night, the Jewish content is pretty bleak, or, if sunny, familiar.
Michael Arden's staging of Jason Robert Brown and Alfred Uhry's musical Parade, starring Ben Platt as murdered Jewish factory supervisor Leo Frank, is up for six awards including best revival and direction. The show became a flashpoint for modern displays of antisemitism when its first preview was picketed by neo-Nazis claiming Leo Frank was a pedophile. (Our Engagement Editor Jake Wasserman got ahold of the video of the protests.) 
Rebecca Salzhauer praised the show's performances, staging and music, but concluded "its reach for contemporary resonance gets in the way of the show's emotional landing." 
Nora Berman profiled Micaela Diamond, the 23-year-old star nominated for best actress in a musical, about playing Frank's wife, Lucille. 
"I feel more fulfilled at the end of this show than any show I've ever done," Diamond told Berman.
I had the opportunity to show Ben Platt, nominated for best actor for playing Leo Frank, Frank's handwritten letters from jail.
"You just feel an instant connection to someone when you see their penmanship and the way they speak and the actual object — it's so irrefutable," Platt said.
Diving into the role made Platt want to revisit his own family history, and, in his search, he learned that he and Josh Groban (nominated this year for playing the demonic barber in Sweeney Todd) are cousins.
"We share some great-aunt — Irene Groban. She's still alive," Platt told The New Yorker.
The other major Jewish play was Leopoldstadt, Tom Stoppard's excavation of his heritage, which I found  rather shallow. "Instead of developing relationships, Stoppard is intent on giving us a history lesson," I wrote, noting how the end result is a "speed-through of things Stoppard would rather not discuss."
Even so, the sprawling family saga, in which a family of assimilated Austrian Jews end the play murdered by Nazis, was nominated for six awards, including play, direction for Patrick Marber and featured actor for Brandon Uranowitz. (We interviewed Caissie Levey, who played Uranowitz's wife in the show and Joshua Malina, the West Wing alum who replaced David Krumholtz as the family's patriarch.)
Everything old is new again
This year also saw high-profile revivals of Stephen Sondheim, including an orchestrally massive Sweeney Todd (eight nominations) and a more stripped down Into the Woods (six, including one for scion of Yiddish theater Julia Lester).
Revivals were the most interesting category, with Lerner and Loewe's Camelot, with a new, Talmudic book by Aaron Sorkin, up for five Tonys. Lorraine Hansberry's The Sign in Sidney Brustein's Window, which Irene Katz Connelly hailed for its nuanced take on white (Jewish) privilege, received two nominations, including one for actor Miriam Silverman, following its recent transfer from the Brooklyn Academy of Music to Broadway. Wendell Pierce's go at Willy Loman in Death of a Salesman earned him his third nomination.
But even the new stuff feels like deja vu. Some Like it Hot, based on the Billy Wilder classic, is up for a formidable 13 awards, including for Jewish composer Marc Shaiman — and it is just the second stage musical to tell the story. Meanwhile, New York, New York recycles old Kander and Ebb standards to the tune of 10 nominations.
There's more than a whiff of period nostalgia, dusting off old intellectual property or, in the case of Jessica Hecht's Tony-nominated turn for Summer, 1976, the bicentennial. (The all-female 1776 revival was not nominated, perhaps owing to offstage drama.) Something is in the air when a play about midcentury pianist and wit Oscar Levant (Good Night, Oscar) is darling enough to court awards alongside a musical about corn (Shucked).
Picking up from some of last year's boundary-pushing nominees, Fat Ham, a Black American retelling of Hamlet, has six nods and the quirky Kimberly Akimbo is up for best new musical, with Jewish composer Jeanine Tesori recognized for her score. Overall, though, nothing feels quite on the level of A Strange Loop, which earned 11 nominations last year and won best musical.
Rain on our 'Parade'?
With news of the writers' strike, next month's Tonys broadcast may prove interesting — one hopes it doesn't culminate in host Ariana DeBose forced to improvise a song about Micaela Diamond "doing the thing." But even with predictable musical numbers, the ceremony is hinting at a tonally bumpy ride, segueing from a Some Like it Hot jazz number to a duet between Leo and Lucille Frank and his wife. 
But then, isn't that always the case with the potpourri of awards shows? For every kickline there's a reminder of human tragedy. For every breath of fresh air, there is a frisson of times gone by. But as Leopoldstadt and Parade prove, the prospect of nostalgia has never been uncomplicated for Jews.
The post The 2023 Tonys love dead Jews (and some living ones) appeared first on The Forward.