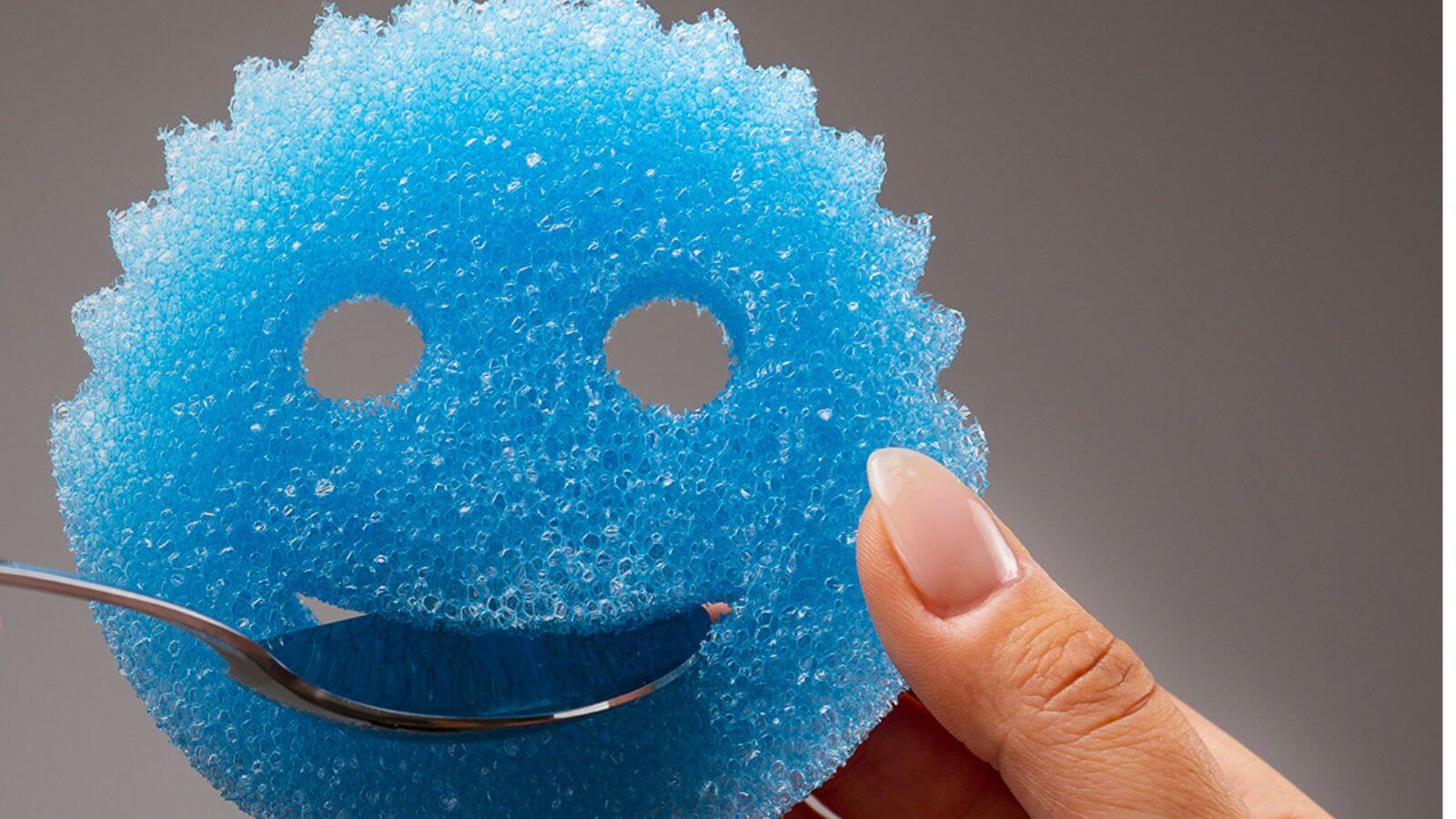 If you're familiar with Scrub Daddy, the thirstiest sponge in the world, and the most popular on TikTok, perhaps you'll be excited to hear that it comes in a kosher pack now. Color-coded for the somehow-universal rules of kosher colors, it includes a red sponge for your meat dishes, blue for dairy and a green sponge for whatever your parve needs may be.
Other than color, though, there's nothing kosher about Scrub Daddy — or any sponge. You don't eat them, so they're not subject to the rules of kashrut. And, of course, you could just buy your sponges in the necessary colors. 
Sure, it's a nice convenience for them to come prepackaged, plus it's a fun little bit of Jewish representation that actually speaks to real, lived Jewish practice — a rarity in a world of "Oy to the world" merch. But it seems, well, pretty random. What makes this sponge different from all other sponges?
If you know about Scrub Daddy, and the world of TikTok influencers, it all makes perfect sense.
The wild world of brand TikTok
The world of brand social media is a strange place. On brand Twitter, due to the general culture of cynicism on the platform, corporate accounts relate to customers through existential musings or defend the footwear of their "spokescandies," as M&M recently did.
But Brand TikTok is ruled by personified mascots, engaging in whatever memes are trending on the platform at the time, whether that's a certain dance, a song or a joke. For instance, there's the Duolingo owl, best known for harassing users to do their language homework. 
And then there's Scrub Daddy sponges. They were originally pitched on Shark Tank by CEO Aaron Krause, so they've always had a certain amount of publicity and hype. They're made of a patented plastic compound that is both absorbent and abrasive and changes texture in hot and cold water. Plus, each sponge has a smiling face — you can clean utensils by shoving them through the open mouth — which means they work well as a character.
Their marketing team knows how to leverage a meme, riffing on the "Chad" — an online archetype of a square-jawed ideal male — and creating a large-chinned sponge. They feud with other brands, creating publicity wars that bring in amused viewers. But most of all, they use sex.
That anthropomorphized Scrub Daddy face with its open mouth also means the sponges lend themselves to an inordinate amount of sexual innuendo. Mr. Clean may have pioneered sex appeal in the cleaning arena, but Scrub Daddy rules it. A few months ago, for example, it got 2 million likes, and 12 million views, on a porny TikTok that involved sensually drizzling a new cleaning product over a Scrub Daddy's face. 
@scrubdaddy Problem? #scrubdaddy #smile #cleantok #cleaningtiktok #americasfavoritesponge ♬ original sound – Mark the capybara
The account alternates between being aggressively thirsty and simply aggressive, including a long-running bit in which a Scrub Daddy sets normal sponges on fire. But it also seems to be a good sponge; it has a monopoly on "cleantok," the corner of TikTok that consists of cleaning videos. Influencers recommend it for its scrubbing power, but also love the fact that it is superior at generating bubbles. (There's a whole genre of cleantok videos that focus on simply generating giant piles of bubbles instead of actually cleaning; viewers seem drawn to the satisfying visual.) 
The surprising popularity of Jewish TikTok
OK, fine — so there's a sexy sponge on TikTok that's super popular, sure. But it sure doesn't sound very Jewish, or kosher.
But in the past few years, Jewish TikTok has taken off well outside the Jewish world. Influencers such as Miriam Ezagui, a Hasidic woman in Brooklyn, have well over a million followers, who are fascinated by customs such as keeping kosher or attending the mikvah. Ezagui recently had a viral New York Post article about her sex life, focusing on her separated beds. She also had a video about buying a new wig go enormously viral, with viewers astonished at both its price tag — $7,000 — and its realism.
Within Jewish TikTok, Melinda Strauss is one of the longest-standing influencers, educating Jews and non-Jews alike on Jewish text and ritual. She's an energetic Modern Orthodox woman and mother known for her funky glasses and her videos about kashrut and keeping Shabbat. She focuses on making Judaism accessible and relatable, and though she herself is Orthodox, her observance is more approachable than some of what viewers see elsewhere — she doesn't, for instance, cover her hair — making her the go-to for a lot of confused TikTok users.
Strauss's videos invariably get hundreds of comments with questions about Jewish practice, often about keeping kosher or housekeeping, like how to have light on Shabbat. She might not be part of cleantok, but Strauss's account ends up talking a lot about issues to do with kitchen and home, including how she separates her meat and milk dishes.
So, Scrub Daddy and Strauss partnered to create the pack of kosher sponges, which Strauss has marketed on her TikTok. (It might also help that Scrub Daddy's CEO is Jewish.) In her marketing videos, she leverages the thing that draws viewers to her brand: kashrut, explaining how to use the sponges, showing viewers around her kitchen and reminding people that no, sponges do not need to be kosher. 
At the end of the day, the kosher sponges aren't so weird after all, and it's all just a basic marketing partnership trying to find a new devoted consumer market. Scrub Daddy saw an opportunity to infiltrate a new niche with a strong viewer base via a trusted figure like Strauss, and she presumably got a similar boost by association with the viral brand.
And, apparently, Scrub Daddy realized that sex sells — but so does kashrut.
The post Scrub Daddy's viral sponges come in kosher options now appeared first on The Forward.