I went out with more than 100 women during a five-year dating spree in my 20s.
At the time, I lived in Atlanta, where there seemed to be only a handful of single Orthodox Jewish women – and I had dated all of them. So I started hopping on planes and heading regularly to Manhattan, where friends and family set me up with more than enough potential partners. It was my own version of The Dating Game.
I didn't fly up for just one date, or even just one woman. Sure, that might have been romantic, but it would have been wholly inefficient. Instead, I'd typically fly up on Sunday morning and go on five dates – coffee, lunch, coffee, coffee, and dinner – and then take the last flight back on Sunday night. I boarded the plane those evenings so hopped up on caffeine that I was jittery as I handed my boarding pass to the flight attendant. It was really no way to lead a life.
Perhaps I would have benefited from the services of Aleeza Ben Shalom, a professional matchmaker who sets up singles in the U.S. and Israel, and is the star of the new Netflix reality series, Jewish Matchmaking. 
I've often struggled to explain to those outside the Orthodox community why I would trek across state lines in search of a soulmate. So it was with a sense of excitement and relief that I thought I could finally point them to a show on the planet's most popular streaming platform to do the hard work for me.
But after watching all eight episodes of Jewish Matchmaking, I need to rethink that plan.
The show, which follows Ben Shalom as she tries to source spouses for about a dozen Jewish singles, has several glaring oversights. For starters, Judaism seems to not be that important to many of the singles. It feels like you could be watching any generic dating show.
When they are asked what they're looking for in a spouse, they rattle off a typical checklist: someone who's good-looking, likes to travel, can tolerate cats. One Harley-riding single says if the other person doesn't like motorcycles, it's a deal-breaker. Another is obsessed with a potential mate's eyebrows. There's nothing overtly Jewish about it. Religion rarely even comes up. Which, you know, kind of negates the title of the show.
The other misstep is in packaging. The show had the potential to teach outsiders about Jewishness. Scores of Jewish traditions are mentioned or shown, but never really explained. When a man kisses a mezuzah, non-Jewish viewers are left to wonder why. A woman in Kansas City says she grew up Reform, but no one ever explains what that means.  
Most frustratingly, Hebrew words are generally not translated. Here are some of the terms that I jotted down while watching: Chabad, chassidish, chuppah, Haredi, minyan, off the derech, peyos, sheitels, shtarker, sincerely frum, taglit, yeshiva systems and zvug.
Someone mentions a "yeshivish broken car" while someone else says something about a "shiur" he had that morning. In what I assume is a joke about alcohol consumption, one eligible person says to another, "I wonder what Purim looks like in your house," without sharing any context about the holiday for the viewer.
When an Orthodox couple appears late in the series, the show doesn't fully explain the nuances of dating in that world, which might leave people confused why they meet for an ice-cream date dressed in their Shabbat finest, or why they expect to get engaged and married all within a few months.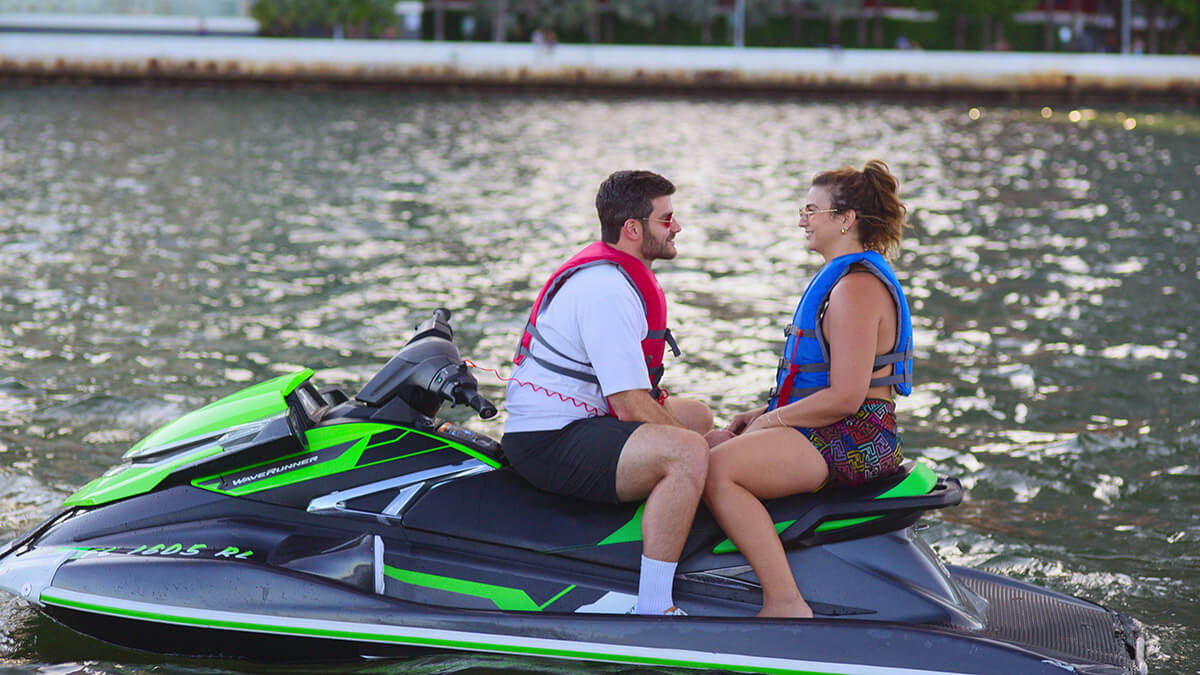 A couple in Miami who appear on 'Jewish Matchmaking.' (Netflix) Image by
The matches in the series also seem kind of … off. Ben Shalom consistently sets up people who do not share the same religious practices, like someone who observes Shabbat with someone who spends Saturdays at the mall. A woman who has no plans to leave a big city is introduced to a man in a small town.
At least they live in the same country. In another episode, Ben Shalom sets up a girl living in Arizona with a guy in Tel Aviv. One woman says she's looking for a man with hair and under 33. Ben Shalom sets her up with a bald 38-year-old. Granted, this may be a producer's reality-show casting decision, and not how she operates in real life. (She has 200 weddings on her matchmaking resume.)
I asked Ben Shalom about this when I spoke with her earlier this week. She told me there's a method to the madness. "It's based on something smart," she said. "It's based on a calculation and a deep understanding of who somebody is and what they want. It's my true goal to get them to that. And sometimes we do have to shift their preferences to get them what they want."
Jewish Matchmaking is from the same producers of Indian Matchmaking, another Netflix show featuring singles who want to marry within their own culture. I watched that show and highly recommend it, perhaps because I felt like I learned about the Indian community.
It's possible that someone who is Indian and familiar with that culture's matchmaking traditions would find similar flaws in that show, which just released its third season. But because I lack knowledge of the inner workings of that community, I enjoyed it in a state of ignorant bliss, happy to learn what I could. Perhaps a non-Jew will similarly enjoy Jewish Matchmaking.
As for me, I watched both shows with my wife. I didn't find her through a matchmaker or during one of my many Manhattan jaunts. I met her on a Shabbat morning in a synagogue. Granted, she was the daughter of a minister and not Jewish at the time. But that's another story.
The post With 'Jewish Matchmaking' series, Netflix squanders opportunity to teach people about … Jewish matchmaking appeared first on The Forward.