The day the shelling began, Genadi Hyusunts had just taken his four-day-old son home from the hospital.
Within hours, he had to hustle his wife, the newborn child and his six other children to the shelter in his native Martakert, which sits in Nagorno-Karabakh on the frontline of a three-decade conflict with Azerbaijan.
There, his breastfeeding wife and family faced days of hunger and sleeplessness in an overcrowded basement, as he headed for the frontline as part of a desperate defence of what Armenians see as their ancestral homeland.
"We didn't have a place to sleep, we didn't see a bed and in the very last days we didn't have anything to eat," said his sister, Gayane Shagants. "In the last days we were starving."
Hyusunts, one of more than 6,000 refugees to have left Nagorno-Karabakh since Sunday, said that his son was healthy despite the ordeal. But his face darkens when asked about the short stint that he served before the Nagorno-Karabakh defence forces laid down their arms, effectively ending more than 30 years of self-rule by ethnic Armenians.
"I can not talk about that," he said darkly.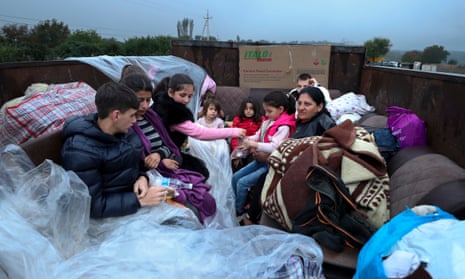 Ethnic Armenians sit in a truck on their way to Kornidzor in Syunik region, Armenia. Photograph: Stepan Poghosyan/AP
Just a week later, they are standing in the centre of Goris, a resort town near the border with Armenia that is now at the centre of an exodus of refugees that could swell up to 120,000 people. Every hour, hundreds more refugees are coming into the city in a convoy leaving Stepanakert, the Nagorno-Karabakh capital, that snakes for nearly 100km to the mountain serpentine that leads into Armenia.
After housing thousands of refugees, the border towns appear in danger of being overwhelmed, with city hotels and hostels fully booked and refugees crowding around municipal centres with all their possessions tied to the roofs of their cars.
Two disabled elderly people were hauled out of the back of an ambulance and carried on mattresses into a local administrative office to join hundreds of others registering as displaced people.
As a heavy rain began to fall on Monday, a young girl sobbed into her mother's trouser leg in downtown Goris as they stood on the street holding a plastic-wrapped package on a street corner.
"I built my home for 30 years and the only thing that I have with me is this bag," said Shagants. "My home is in this bag. They should be very happy that we are leaving because we left our homes to them."
"My wealth is with me," said Hyusunts, meaning his children. "I don't care about the rest."
It is just one of a tide of stories that emerge as thousands of refugees stream into Armenia in a historic exodus from the frontline with Azerbaijan.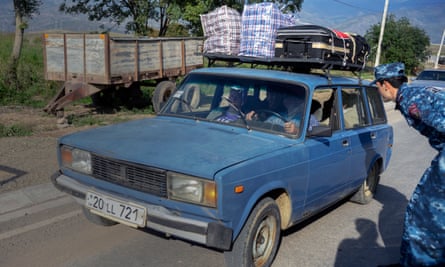 Many people fleeing the conflict have been forced from their homes before. Photograph: Christopher Cherry/The Guardian
Many of those crossing through the Lachin corridor, which was blocked for 10 months by Azerbaijani forces, have already been forced from their homes before in past conflicts.
"I have already lived through my third war," said Anna Hakobyan, a woman in her 70s, who evacuated with her 90-year-old mother. "I will never go back. It is enough for me."
The two women sat in wheelchairs in the lobby of the Goris Hotel, whose rooms had already been fully booked out to accommodate for the hundreds of refugees from Nagorno-Karabakh arriving in the city. They held hands, Lucia sometimes massaging Anna's palm to comfort her as she burst into tears as she recalled that she had left her son's grave behind in Nagorno-Karabakh.
She said that after the bombs started hitting their village of Khanapat near the frontline, they also started hiding in the basement of her home. "We went back and forth, back and forth to the bunker, and you see my mother can barely walk."
When the shelling reached the town, the municipal head ordered an evacuation to a local airport under the protection of Russian peacekeepers. But while they were safe there from shelling, they ended up stuck in a terminal with no food for days, while hundreds more were forced to sleep in a field with no shelter.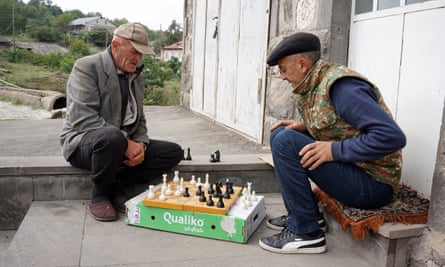 Two men playing chess near the Armenian border with Nagorno-Karabakh. Photograph: Christopher Cherry/The Guardian
"We were sitting there for days without bread but at least we were in the terminal," she said. "People were lying out there in the grass for days. Cutting up firewood for bonfires, looking for anything to eat."
The tide of incoming refugees only appears to be increasing. On Sunday evening, the road was opened for refugees from Stepanakert, the local capital, setting off a potential influx into Armenia of tens of thousands more refugees from the city.
Much of the city was emptying out, Siranush Sargsyan, a freelance journalist who has been reporting on the blockade and war in Nagorno-Karabakh from Stepanakert. On a video call, she showed scenes of locals queueing to board minibuses and traffic jams of cars leaving the city. Those most likely to stay were elderly people, she said, who are being begged by their children and grandchildren to leave the city before Azerbaijan takes full control.
skip past newsletter promotion
Sign up to This is Europe
The most pressing stories and debates for Europeans – from identity to economics to the environment
Privacy Notice: Newsletters may contain info about charities, online ads, and content funded by outside parties. For more information see our Privacy Policy. We use Google reCaptcha to protect our website and the Google Privacy Policy and Terms of Service apply.
after newsletter promotion
The Guardian's Andrew Roth speaks to journalist preparing to evacuate Nagorno-Karabakh – video
"We should leave," said Sargsyan. "Because here for us with Azerbaijanis there is no life."
Many have had to leave their families behind.
Yerazik, who asked to be identified by her nickname, fled Nagorno-Karabakh days after shells destroyed the school in her village just hours after the children had been sent from there to a shelter.
Her son refused to leave, she said. He works for the local emergencies ministry and said that he had to continue his work retrieving the hundreds of bodies from the fields and military positions around the territory.
"He was crying when we were leaving saying 'how are you leaving the village and this land?' I will became an Azerbaijani citizen but I will stay in my land," she said.
Until he comes, she said, she cannot make any plans.
"We are lost," she said. "We have no home, no relatives, nowhere to go."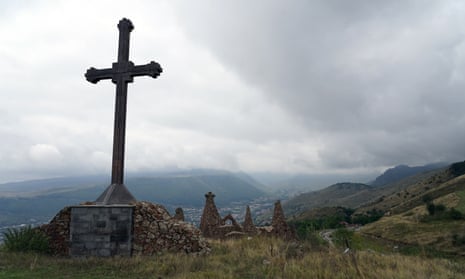 An Armenian cross overlooking the town of Goris, a resort town near the border now at the centre of an exodus of people. Photograph: Christopher Cherry/The Guardian
Narine Khachataryan and her five children also spent five days sleeping in a field outside the airport near Stepanakert, while her husband went to the front. She said that they slept on the ground under blankets given to them by locals, and ate military rations left over by the Russian peacekeepers.
"My husband participated in the defence of the village," she said. "He didn't call for three days, and when we called, the phone was unavailable. We all thought he was dead, the children were crying. On the fourth day, he called someone else's phone, said everything is fine, I will come soon."
When word came down on Sunday that they could evacuate to Armenia, her children were crestfallen.
"They felt terrible when they found out we could leave," she said, describing the opening of the corridor into Armenia following a 10-month blockade that left Nagorno-Karabakh desperately short of food and fuel.
"I told them we would go to Armenia and that we will be back. I didn't say we are leaving for good because they were crying."
On Sunday, they finally boarded buses. But before leaving, they boarded the windows and sat the children on the floor in case the minibuses were hit by shelling.
Now in Armenia, she said, she was looking for somewhere to settle in peace, adding: "I would like to have a house of our own in the village, a garden to cultivate and to feed my children."