Reports that prosecutors have obtained a recording of Donald Trump admitting he kept hold of a classified document after he left the White House has raised speculation on how much further evidence could be retrieved from a laptop belonging to an aide of the former president.
CNN first reported that Special Counsel Jack Smith's team had an audio clip of the former president discussing in July 2021 how he held on to classified Pentagon material about a potential attack on Iran, and that he was aware that he no longer had the power to declassify the document since he left the White House.
Trump has frequently denied any wrongdoing in connection with his retaining of classified materials, claiming that he declassified all documents before he left office. However, Trump's lawyers have never repeated this argument in official court filings during the investigation, with the obtained audio clip suggesting Trump knew he did not declassify all the materials he was in possession of.
In a statement about the audio reports, a spokesperson for the former president said "leaks from radical partisans" are designed to "inflame tensions and continue the media's harassment" of Trump and his supporters.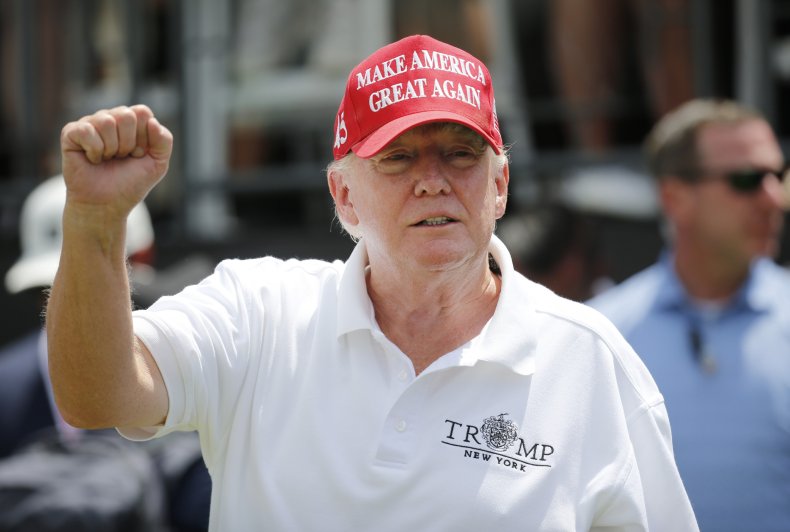 Former U.S. President Donald Trump is seen on the first tee during day three of the LIV Golf Invitational – Bedminster at Trump National Golf Club Bedminster on July 31, 2022 in Bedminster, New Jersey. Federal prosecutors have obtained audio from Trump aide Margo martin's laptop in which the former president admits he did not declassify a Pentagon document.
Jonathan Ferrey/LIV Golf/Getty Images
The audio of Trump was recorded at his golf resort in Bedminster, New Jersey, as part of a meeting the former president had with people helping his former chief of staff Mark Meadows write his autobiography. Also in attendance was Trump aide Margo Martin, who regularly taped conversations authors had with the former president to ensure his comments were reported accurately.
Martin, a former deputy director of communications for Trump's Save America PAC who now works on his 2024 campaign, testified to a special grand jury in March as part of the classified documents probe after having her laptop and phones imaged by prosecutors in January.
CNN previously reported in February that Trump's legal team had inadvertently handed over more materials with classified markings to prosecutors after a Trump aide copied the pages onto a thumb drive and laptop, not realizing they were classified.
Martin was asked about the recording of Trump discussing holding onto classified material during her grand jury appearance in March. Trump's lawyers are also said to have only been made aware of the tape after Martin testified, according to The Guardian.
Democratic strategist Adam Parkhomenko was one of those who suggested that there could be further evidence against Trump kept on Martin's laptop after reports of the Bedminster conversation emerged.
"The most interesting thing about Hunter Biden's laptop is Margo Martin's laptop," Parkhomenko tweeted, in reference to the personal computer belonging to President Joe Biden's son which Republican figures have long believed contains details of alleged corruption.
Discussing The New York Times' reporting, journalist Marcy Wheeler tweeted that there are two details the paper makes "clear."
"1) The recording was July 2021. 2) It was taken by Margo Martin, who recorded all such information, then stored it on her computer," Wheeler tweeted.
The conversation in which Trump discussed no longer being able to declassify a document he was in possession of arrived after media reports detailed how his Joint Chiefs of Staff General Mark Milley talked Trump down from attacking Iran in the final few days of his presidency.
Trump is said to have brought up a document he claims came from Milley and said that if he was allowed to show it to those at the meeting—who did not have security clearance to view classified materials—that it would undermine what Milley was saying.
There is the sound of papers rustling in the audio, although it is unclear if Trump was holding the Iran document in question at the time. One unnamed source told CNN that Trump refers to the document as if it is in front of him at the Bedminster meeting.
A spokesperson for Trump told Newsweek that the "leaks" to the media is "more proof that when it comes to President Trump, there are absolutely no depths to which they will not sink as they pursue their witch hunts.
"The DOJ's continued interference in the presidential election is shameful and this meritless investigation should cease wasting the American taxpayer's money on Democrat political objectives."