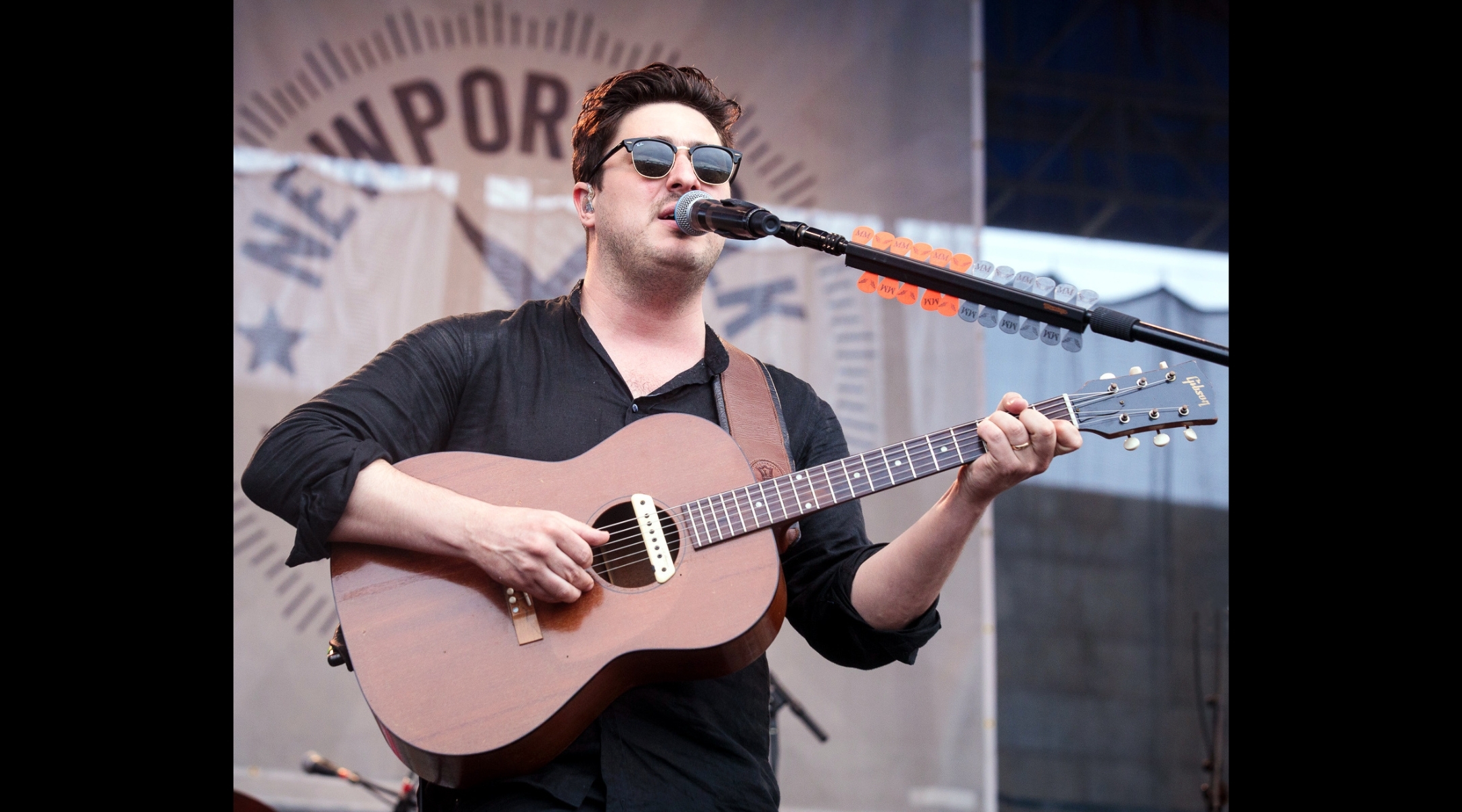 (JTA) — Marcus Mumford, the lead singer and guitarist of British folk rock band Mumford and Sons, will perform in a pre-recorded music video at a joint Israeli-Palestinian memorial service in Tel Aviv next week, giving a celebrity imprimatur to an event that draws perennial controversy in Israel.
Mumford has been involved with one of the event's organizers, the Parents Circle-Families Forum, which brings together bereaved Israeli and Palestinian families, since 2014 when he met its Jewish cofounder, a mother whose son had been killed by a Palestinian sniper. He has visited Israel and the West Bank and performed in events promoting coexistence in Israel and the United States, including with his longtime friend, the Palestinian rapper Tamer Nafar.
The April 24 ceremony, which marks the beginning of Israel's Memorial Day, or Yom HaZikaron, has drawn backlash in Israel for commemorating Palestinian victims of the conflict alongside Israelis killed in war and terror attacks. This year, as in previous years, Israel's defense minister has declined to issue permits to allow Palestinians to cross from the West Bank into Israel to attend the event, citing "the complex security situation" in the West Bank.
The defense minister, Yoav Gallant, issued his decision at an especially tense time in Israel, which has experienced escalating Israeli-Palestinian violence alongside weeks of protests against the government's proposal to sap the Israeli Supreme Court of much of its power. Last month, Prime Minister Benjamin Netanyahu fired Gallant — and subsequently reversed that decision — after Gallant called for a pause in the court reform.
The other group organizing the memorial, Combatants for Peace — which is comprised of former Israeli soldiers and Palestinian militants who now advocate for nonviolence — attributed Gallant's decision to his near-termination.
"Gallant is frightened by the threat of dismissal & has fallen in line with the silencing of voices," Combatants for Peace said in a statement on Twitter. "The ceremony is how hundreds of bereaved families remember their loved ones. It represents the future that is possible here – a joint future of dignity & human rights for ALL."
In the past, decisions like Gallant's have been overturned by Israel's Supreme Court, which has allowed West Bank Palestinians to attend the event. The groups organizing the event will be petitioning the Supreme Court to overturn this decision as well.
(The event is a case study of sorts in the conflict between the Supreme Court, which says it is upholding basic rights, and the Israeli right wing, which believes the court's decisions contravene the will of Israel's elected government. After the court reversed a ban on Palestinian participants in the ceremony in 2019, Netanyahu said in a statement, "The High Court's decision is mistaken and disappointing. There should not be a ceremony that equates the blood of our sons to the blood of terrorists. That's why I refused to allow the entry of the ceremony participants, and I believe the High Court should not have intervened in my decision.")
Mumford is not the first celebrity to participate in the Israeli-Palestinian memorial ceremony. Actor Richard Gere appeared via video in 2021, and last year's ceremony featured popular Jewish Israeli actress and comedian Rivka Michaeli and Arab Israeli actor George Iskandar, along with live and recorded musical performances.
"Today more than ever it is important to recognize that two peoples call this place their homeland, and it is time to act together to realize this partnership and create a better future here for everyone," Combatants for Peace said in a statement thanking Mumford for his appearance. "When we collectively remember our loved ones lost in conflict, we do just that."
This article originally appeared on JTA.org.
The post Marcus Mumford to perform at controversial joint Israeli-Palestinian memorial event appeared first on The Forward.