(JTA) — As a young teenager growing up in Manhattan, Nina Kauder found it nearly impossible to ask her mother difficult questions about puberty or her Jewish identity, for two reasons.
Her mother had fled the Holocaust as a child and was, in Kauder's words, "very tough" to talk to. And by the time Kauder was a teen, her mother was terminally ill. She got her first period just months after her mother's death.
So Kauder, now 58 and a health coach, turned to Judy Blume.
She remembers reading Blume's 1970 young adult classic "Are You There God? It's Me, Margaret," about a sixth grader with a Jewish father and Christian mother, in her closet with a flashlight after bedtime. 
"I'm reading in there, devouring her book, learning about boys, learning about breasts, learning about brassieres, learning about religion, about identity, about growing up in the United States — learning about all of that," she said.
Kauder isn't alone. Blume's 29 books, which have sold over 90 million copies and been translated into 39 languages, have been touchstones for women — especially Jewish American women — for multiple generations. Her protagonists deal with a range of teen issues, from bullying to sex to loneliness to menstruation, in a realistic way, but they also grapple with issues of Jewish identity as they come of age, adding an extra layer of relevance for young Jewish readers.
Blume is having a moment with the recent release of a documentary about her life and career streaming on Amazon Prime titled "Judy Blume Forever" and a major on-screen adaptation of "Are You There God? It's Me, Margaret," which debuted on Friday to warm reviews. The topics Blume has written about since 1969 have remained relevant: her books still regularly land on banned book lists as states continually debate what young readers should be able to access. (Several of her books were banned in states including Texas, Florida, Utah and Pennsylvania last year.) She regularly speaks out on the dangers of book banning, which she attributes to fear, explaining that "because fear is contagious, some parents are easily swayed." 
The documentary tells the story of Blume's life and career, beginning with her secular Jewish upbringing in Elizabeth, New Jersey. Born in 1938, Blume was seven when World War II ended, and she describes an anxious childhood in the film. Her mother reassured her that the war happened far away and that they were safe. 
"Did I believe that?" Blume asks in the film. "I don't know. I was a Jewish girl and this happened because you were a Jew. I was an anxious child." 
She also connects her childhood anxiety to her prolific imagination: "I felt adults kept secrets from the kids. I hated those secrets. I think I had to make up what those secrets were. That fueled my imagination." 
"Are You There God? It's Me, Margaret" centers on an 11-year-old who moves to a new town with her parents and has intimate conversations with God. Margaret longs to feel normal, to start growing breasts and get her period along with her friends. She also struggles with her religious identity; her mother is Christian and her father is Jewish, and neither set of grandparents approved of the union. Margaret sets out on a quest to learn about and pick a religion, all the while wondering why she only feels God's presence when she's alone.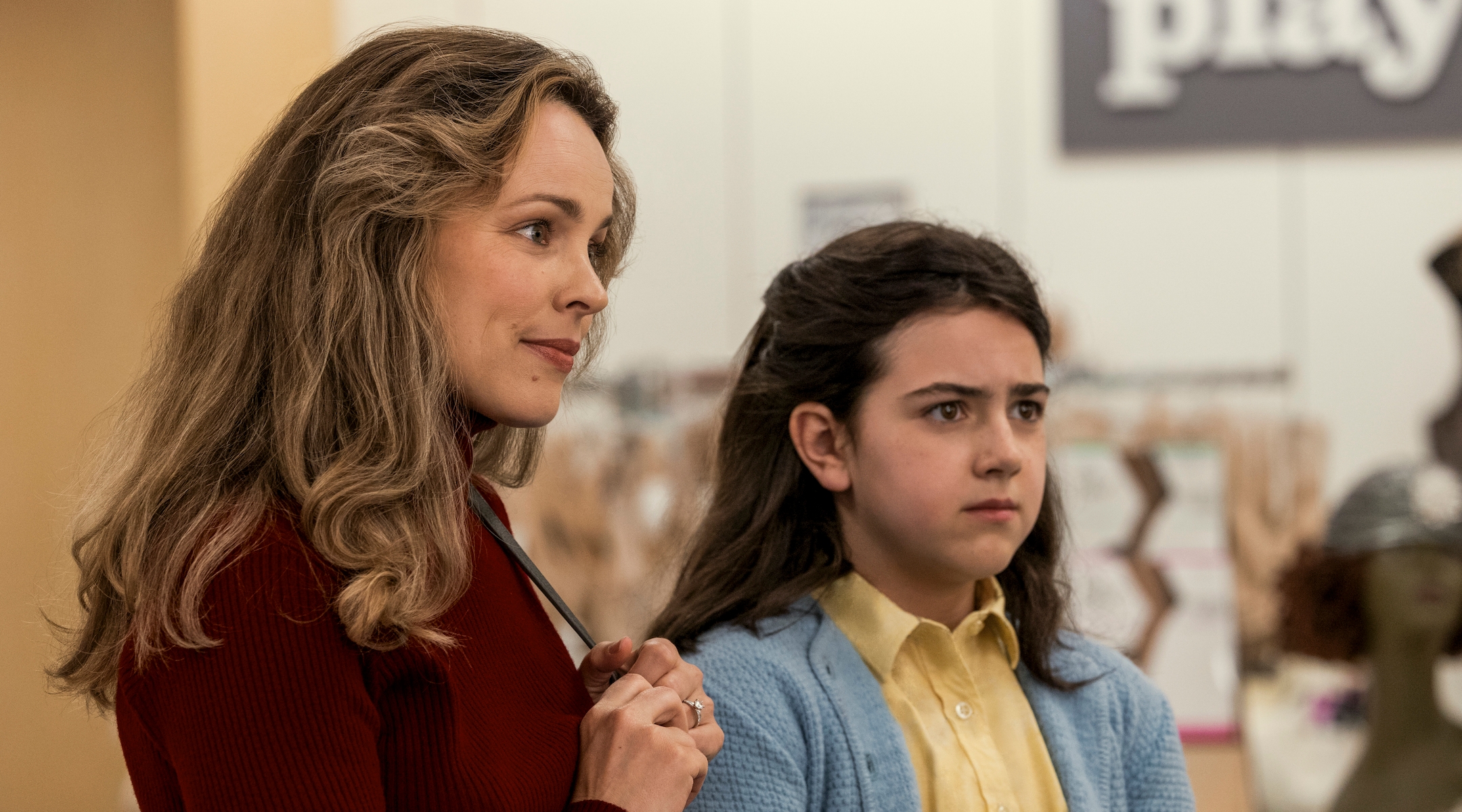 Rachel McAdams and Abby Ryder Forstson in the film adaptation of "Are You There God? It's Me, Margaret." (Lionsgate)
During the war, Kauder's mother had "survived in France as a hidden child, [hidden] by the nuns in a Roman Catholic environment." Subsequently, growing up, Kauder "didn't have a Jewish or a religious or a spiritual influence at all." She identified with Margaret.
"Here comes Judy Blume's book, which for different reasons has a Jewish and a Catholic influence, but she's trying to figure it out," Kauder said. 
To Jessye Ejdelman, a 31-year-old software engineer who attends a Modern Orthodox synagogue in New York City and is raising her children in a Yiddish immersive household, the book is also a strong expression of American Jewishness: of "not being sure where you fit as a Jew and not being sure where God fits as a Jew and as an American." 
To Edjelman, the Margaret character demonstrated something meaningful about the Jewish relationship to God. "The literal wrestling with God in a way is very like Jacob. I think of Judy Blume when I think of that, like that wrestling with God, that uncertainty." 
But the book's relevance in her teenage years went beyond religion.
"[Like in] 'Are You There God? It's Me, Margaret,' I was also a girl who was waiting for my first period to come," she said. "I remember pretending to have my period and I really related to Margaret as a character because of that… Like I was just waiting to not be awkward or weird or ugly or a child… Many, many women relate to that feeling." 
In the 1970s, after her writing career and the women's liberation movement took off, Blume decided to leave the suburbs and her first marriage. "I wanted to see the world. I wanted to travel everywhere," she explains in the film. 
After her divorce, her books became more explicitly drawn from her own life. In 1977, Blume wrote what she calls her "most autobiographical novel," the book "Starring Sally J. Freedman as Herself," about her post-war Jewish childhood. It includes a scene where the young characters grapple with their fear of the Nazis by playing make-believe. 
Elisa Zuritsky, 53, a TV writer and producer behind shows like "Sex and the City," "Odd Mom Out" and "Smash," remembers watching "The Brady Bunch" on TV in the early 1970s — a time when Jewish themes were far less common on screen — and hoping they might include a Jewish moment or character.
"I started reading Judy Blume books and the thrill that there were any Jewish characters in her books and heroines and narrators of her stories was monumental, I think, for me," said Zuritsky, who grew up attending Jewish day school in Philadelphia. "I so rarely saw Jews anywhere in the popular culture that I consumed." 
Rereading the books as an adult, Zuritsky said, "what struck me the most, and what I think I was responding to as a kid, was how unadorned and unapologetically honest she let her narrators be." She aspired to be just as honest in her own writing about women's life experiences. 
"There's a direct line between reading Judy Blume books and being an adult writing for 'Sex and the City.' It's pulling from the same well," she said. "The bar was set for me personally by [Judy Blume]." 
This article originally appeared on JTA.org.
Listen to That Jewish News Show, a smart and thoughtful look at the week in Jewish news from the journalists at the Forward:

<iframe height="200px" width="100%" frameborder="no" scrolling="no" seamless src="https://player.simplecast.com/5baed578-338e-4f02-8255-dae57acd7418?dark=true"></iframe>
The post Judy Blume is having a moment. Here's why Jewish women love her work. appeared first on The Forward.