Despite its initial reluctance, the Biden administration made several secret attempts to pick up where the Trump administration left off to expand the number of countries normalizing relations with Israel, Israeli journalist Barak Ravid reports in a a newly released, expanded and English-language version of a book he published in Hebrew in 2021. 
While Biden ​publicly committed to pursuing these agreements during the campaign and early on in his presidency, administration officials were not eager to embrace the signature Donald Trump policy. They also stepped back from the nation's historic role in helping manage the Israeli-Palestinian conflict in order to focus on domestic issues. The brief flare-up between Israel and Hamas in May 2021 further delayed American efforts to forge peace agreements.
But in October of that year, the Biden administration sensed an opportunity to seek rapprochement between Israel and Mauritania, a poor country in North Africa, writes Ravid,the Middle East correspondent for Axios and the diplomatic correspondent for Walla! News in Israel. The revelation is part of a chapter on the Biden administration added to the English-language edition of "Trump's Peace: The Abraham Accords and the Reshaping of the Middle East," released on Monday.
Ravid shared details from the new chapter with the Forward. 
Though not a major player in the Arab world, Mauritania was in 1999, several years after the signing of the Oslo Accords, the third country — following Egypt and Jordan — to warm to relations with Israel. But Mauritania, an Arab, predominantly Muslim nation of about 4.5 million people, severed ties with the Jewish state in 2009 after the Gaza War that resulted in the death of more than 1,000 Palestinians and 13 Israelis. Under Iranian pressure, it expelled Israeli diplomats and allowed Iran to take over a hospital for cancer treatment that Israel built in Nouakchott, its capital 
Ravid writes that the Trump administration tried to forge ties between Mauritania and Israel in the final weeks of Trump's term in office, building on the success of the normalization agreements with  four Arab countries, known as the Abraham Accords.
But "time ran out," Ravid writes.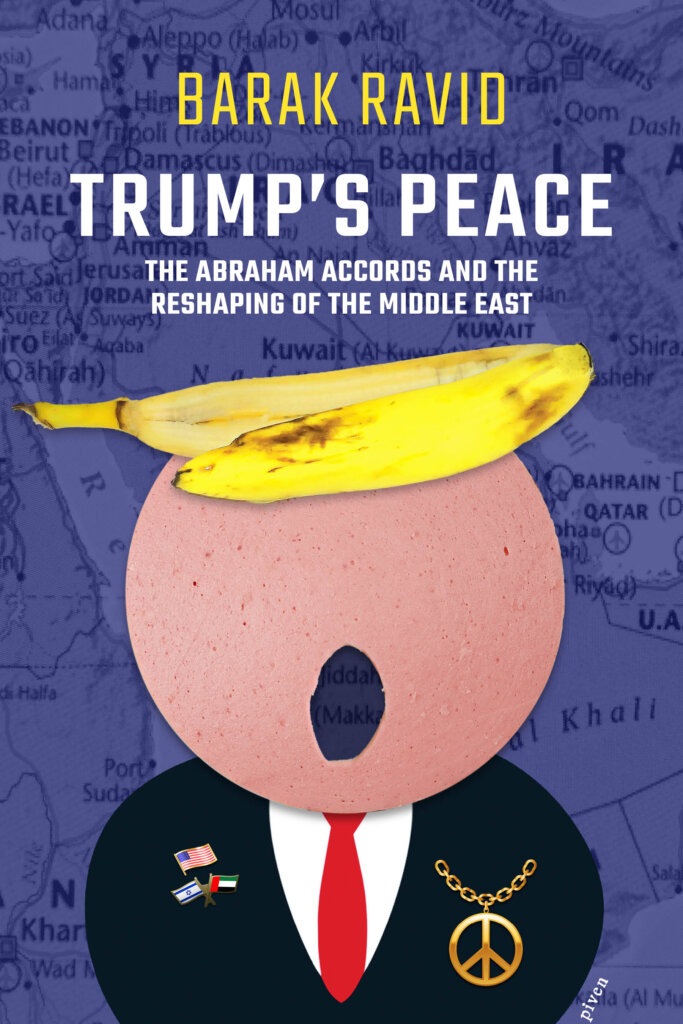 Cover of book by Israeli journalist Barak Ravid titled "Trump's Peace: The Abraham Accords and the Reshaping of the Middle East." Courtesy of Barak Ravid
The Biden administration identified Mauritania "as a promising target," Ravid continues, after Secretary of State Anthony Blinken held a public virtual meeting with his counterparts from Israel, the United Arab Emirates, Bahrain and Morocco in September 2021 to celebrate the first anniversary of the the Abraham Accords and broadcast intentions to broaden it. 
The new chapter reveals that Alon Ushpiz, director general of Israel's Foreign Ministry, met with Jon Finer, Biden's deputy national security advisor, on October 13 at the White House as Finer was about to embark on a diplomatic trip to Mauritania. Ushpiz said Israel was prepared to offer the poverty-ridden nation an assistance plan in return for the reestablishing of full diplomatic relations. 
Finer, who covered the 2009 war in Gaza for The Washington Post, later joined the Obama administration and then served as a foreign policy advisor to Biden, focusing on the Middle East, and as a senior advisor to Blinken, who was then the deputy national security advisor.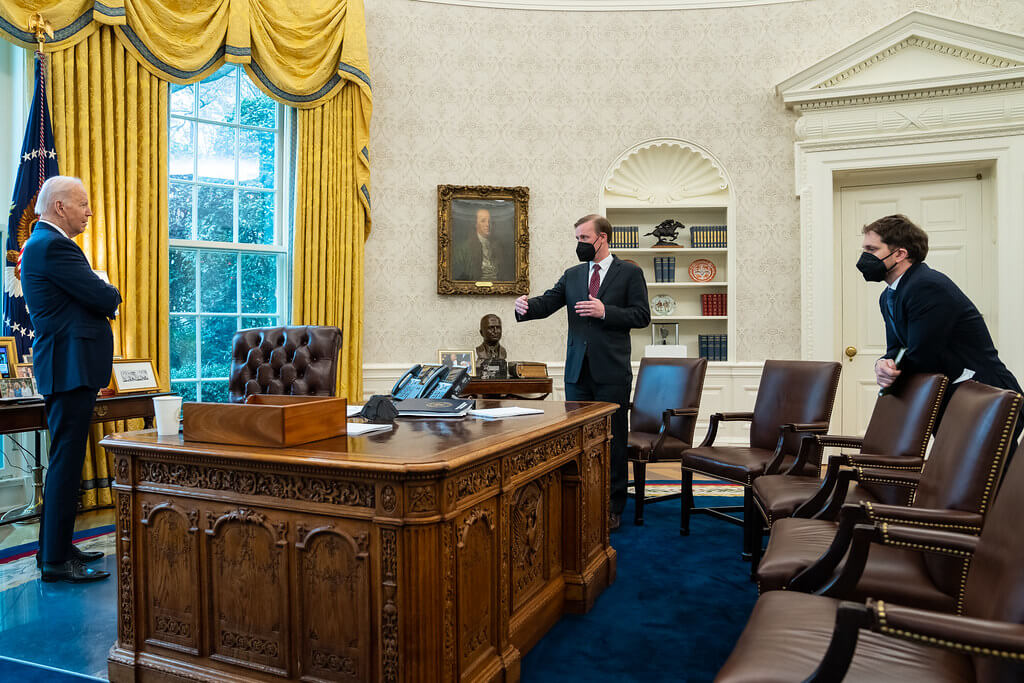 President Joe Biden with National Security Adviser Jake Sullivan and Deputy National Security Adviser Jon Finer on February 22, 2022. Photo by Official White House Photo by Adam Schultz
The Mauritanians, including President Mohamed Ould Ghazouani and other senior ministers, "weren't enthusiastic" when Finer raised the Israeli proposal with them, "but were willing to engage," Ravid writes. The effort fell through because they expressed a willingness to resume ties, but only gradually. "We didn't want that at the time," a senior Israeli official told Ravid. 
Ravid's Hebrew book, published in December 2021, was the first to offer a behind-the-scenes look at Trump's foreign policy achievement in the Middle East and quickly became a bestseller. It featured revealing interviews with Trump, in which the former president expressed his disappointment at the "disloyalty" Israeli Prime Minister Benjamin Netanyahu showed when he followed protocol and congratulated Biden for his victory in November. "F**k him," Trump said at one point, referring to  Netanyahu, who had been ousted from office at the time of the interview.
Netanyahu has set peace with Saudi Arabia as a goal since returning to office in December, suggesting it would be a diplomatic "quantum leap" that would end the Israeli-Arab conflict and Iran's aggression in the region. But the Biden administration's efforts to expand the Abraham Accords have grown more complicated in recent months amid mass protests in Israel over the Netanyahu government's judicial overhaul plan, which has dismayed many American Jews as antidemocratic. 
Israeli Foreign Minister Eli Cohen has reportedly renewed efforts to reach out to Mauritania and other Muslim countries in recent weeks. Jake Sullivan, the U.S. national security advisor, said in a recent speech that an agreement between Israel and Saudi Arabia remains in the national security interest of the U.S. 
On Monday, senior administration officials – Sullivan; Brett McGurk, White House Middle East coordinator; and Amos Hochstein, Biden's senior adviser for energy and infrastructure — met with Netanyahu in Jerusalem to brief him on expected talks with Saudi Crown Prince Mohammed bin Salman.
The post Biden picked up from where Trump left off to expand Abraham Accords, author claims appeared first on The Forward.