A tense moment in last night's playoff game between the Phoenix Suns and Denver Nuggets has the NBA community — and Forward staffers — divided on the involvement of Suns owner Mat Ishbia, a Jewish businessman who bought the franchise in February.
[related row="1″]
Here's what happened: With the game approaching halftime and two teams separated by just a point, a blocked shot by the Nuggets' Nikola Jokić sent the ball hurtling toward the corner and out of bounds, where a Suns' player who chased it down was unable to keep it in play. The refs declared it Nuggets' ball, and Jokić hustled over to grab it and start the next possession.
There was just one problem: The ball happened to be in the arms of Phoenix Suns owner Mat Ishbia, seated courtside for the big game. And with one of his team's players still picking himself up off the floor, Ishbia wasn't ready to give it up, wrenching it away from Jokić. But the 7-foot, 280-plus-pound Serbian went in with two hands, stripping the ball from Ishbia's clutches. That only knocked it further into the crowd, and as Ishbia put a hand on Jokić's back — either to brace himself or to confront him — Jokić put his left forearm into Ishbia's chest with enough force to put the billionaire on his wallet:
The referees whistled Jokić for a technical foul for the shove, awarding a free throw to the Suns. It was not the final margin in the game, which the Suns won 129-124 to tie the series at two games apiece. Yet afterwards both Jokić and Nuggets head coach Michael Malone were steamed about what transpired, with the Serbian decrying "the fan" — Ishbia — who put his hand on him and Malone saying he didn't care that the fan owned an NBA franchise.
Ishbia said Monday he doesn't want Jokić suspended for the action, and it seems likely that the league, and the series, will move on with both present at Game 5. (Fines could still be in order.) But because Ishbia is Jewish — he played for his local Maccabi team as a kid — the Forward's sporting correspondents decided to settle a debate (with a shoutout to Danielle Brody, who invented the game): Did Ishbia's behavior constitute a mitzvah or a shanda?
LOUIS KEENE: It's a mitzvah. Look: Mat Ishbia is new to this, and all things considered, he seems like a good guy — so let's apply the Jewish principle of dan l'chaf zechut, or the benefit of the doubt. He bought the Suns from Robert Sarver — also Jewish, but by all indications not a good guy — and his first major decision as owner was to trade a bunch of players and picks to land the league's best scorer, Kevin Durant. We can see this ambitious move as a fundamentally charitable act of tzedakah for long-suffering Suns fans who have never seen their team win a championship. 
Given this context, Ishbia's holding onto the ball was not only practical, but menschy. By playing keepaway from Jokić, he was buying time for Josh Okogie, the Suns player who had careened into the stands chasing the ball. He was rewarding his employee's labor, as the Torah exhorts us to do in Deuteronomy 24:15 "before the sun sets." Pun intended? You'd have to ask God.
And let's not forget the physical risk he took to hold the ball. Standing 5-foot-10 with a journalist's physique, Ishbia could have been hurt! An angry Joker has certainly harmed bigger dudes. I would argue that taking one for the team is the ultimate mitzvah. As Devin Booker said after the game, "He got us a point. He did his job."
A different owner might have gone for blood the next day, seeking a suspension of the other team's star for Wednesday's pivotal Game 5. But Ishbia, ever the tzaddik, took the high road, saying he admired Jokić as a player and had no interest in his suspension. His comments after the game certainly reflected better character than moaning Malone and his jeering star. Doesn't that reveal his intent?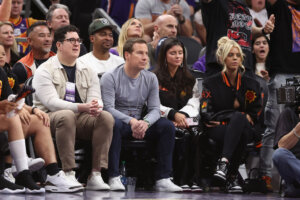 Suns owner Mat Ishbia (second from left) sitting courtside at Footprint Center in Phoenix in March. Photo by Christian Petersen/Getty Images
TANI LEVITT: Don't think too hard: This is a shanda.
When the loose ball wound up in his hands, Ishbia had an opportunity to do the mitzvah of hashavat aveida, returning a lost object. The Torah commands with exceeding clarity what one should do when someone else's work tools escapes their grasp:
"If you see your fellow's ox or sheep gone astray, do not ignore it; you must take it back to your fellow." (Deuteronomy 22:1)
Ishbia did not take the basketball back to his fellow — he did the opposite! By holding on to the basketball instead of handing it back to Jokić, Ishbia impeded Jokić's ability to do his job. 
To be generous to Ishbia, you might think that he saw Jokić, a two-time MVP, who was on his way to a superhuman 53/11/4 performance, and thought that the man could use a rest. As the Torah tells us:
"When you see the ass of your enemy lying under its burden and would refrain from raising it, you must nevertheless raise it with him." (Exodus 23:5)
However, Ishbia would have to be playing dumb to think that this text applied midway through the second quarter of a playoff game. The teams had barely played 20 minutes at that point. What's more, Jokić's urgency should have been all Ishbia needed to know that the ball was not his to hold. Stay in your lane, new guy. Ishbia's decision to hold onto the ball is a shanda.
Reader, what say you?
The post Mitzvah or shanda? Suns owner Ishbia grabs ball, annoys MVP appeared first on The Forward.