At least 22 people were killed in two mass shootings at a restaurant and a bowling alley in Lewiston, Maine, Wednesday night, one of the city's councilors told CNN. Another 50 to 60 people were injured, according to multiple law enforcement sources.
An intensive manhunt is underway for a suspect, officials said, and police are asking residents to shelter in place as the situation is ongoing. Lewiston is the state's second-largest city which is about 36 miles north of Portland.
Police identified Robert Card, 40, as a person of interest in the shooting, adding he should be "considered armed and dangerous."
7 min ago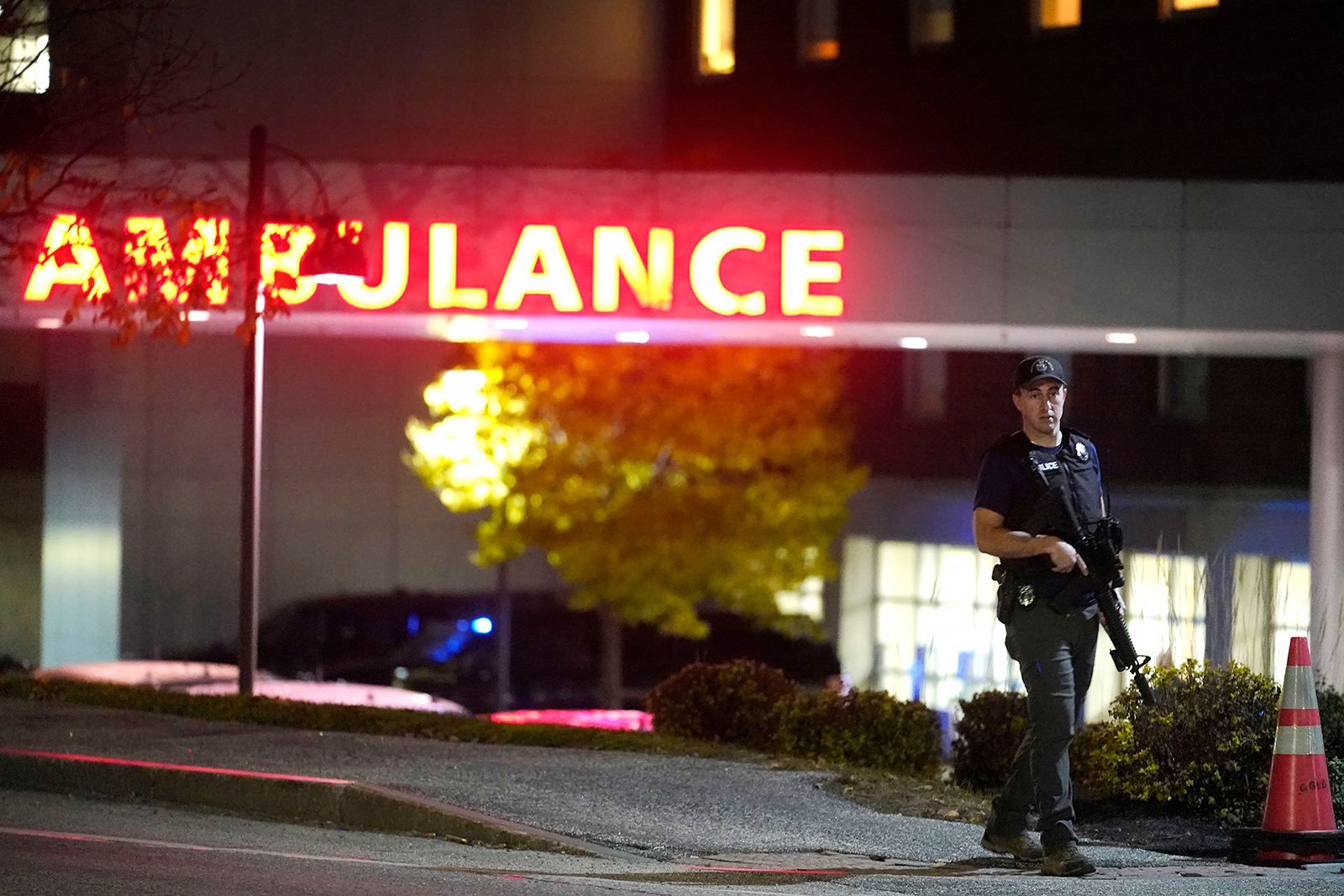 A law enforcement officer carries a rifle outside Central Maine Medical Center during an active shooter situation, in Lewiston, Maine, on October 25. Steven Senne/AP
An intensive manhunt is underway in Maine after two mass shootings left at least 22 people dead and dozens injured on Wednesday night.
Here's what we know so far:
What happened: There were two active shooting incidents in the city of Lewiston — at Sparetime Recreation, a bowling alley on Mollison Way, and Schemengees Bar & Grille Restaurant on Lincoln Street, according to Lewiston police. State officials say the shootings began around 6:56 p.m. ET. Eyewitnesses described seeing people running away from the bowling alley. Lewiston is about 36 miles north of Portland and is the state's second-largest city.
A "person of interest": Lewiston police have identified 40-year-old Robert Card of Bowdoin as a person of interest, saying he should be "considered armed and dangerous." Law enforcement officials in Maine say Card is a certified firearms instructor and a member of the US Army Reserve. Card had recently made threats to carry out a shooting at a National Guard facility in Saco, Maine, and also reported mental health issues, including hearing voices, the officials said.
Photo of the person of interest: The sheriff's office released images of a "suspect for identification." The person was seen in brown clothing, holding a high-powered assault-style rifle.
The car: Police also shared an image of the vehicle they're looking for — a small white SUV with a front bumper believed to be painted black — which Maine State Police confirmed is the suspect's car.
The manhunt: Maine officials say hundreds of police officers are now working across the state to locate Card, the public was urged to contact law enforcement if they have information about his whereabouts. Residents are being told to continue sheltering in place.
This post has been updated with more details on the "person of interest."
1 min ago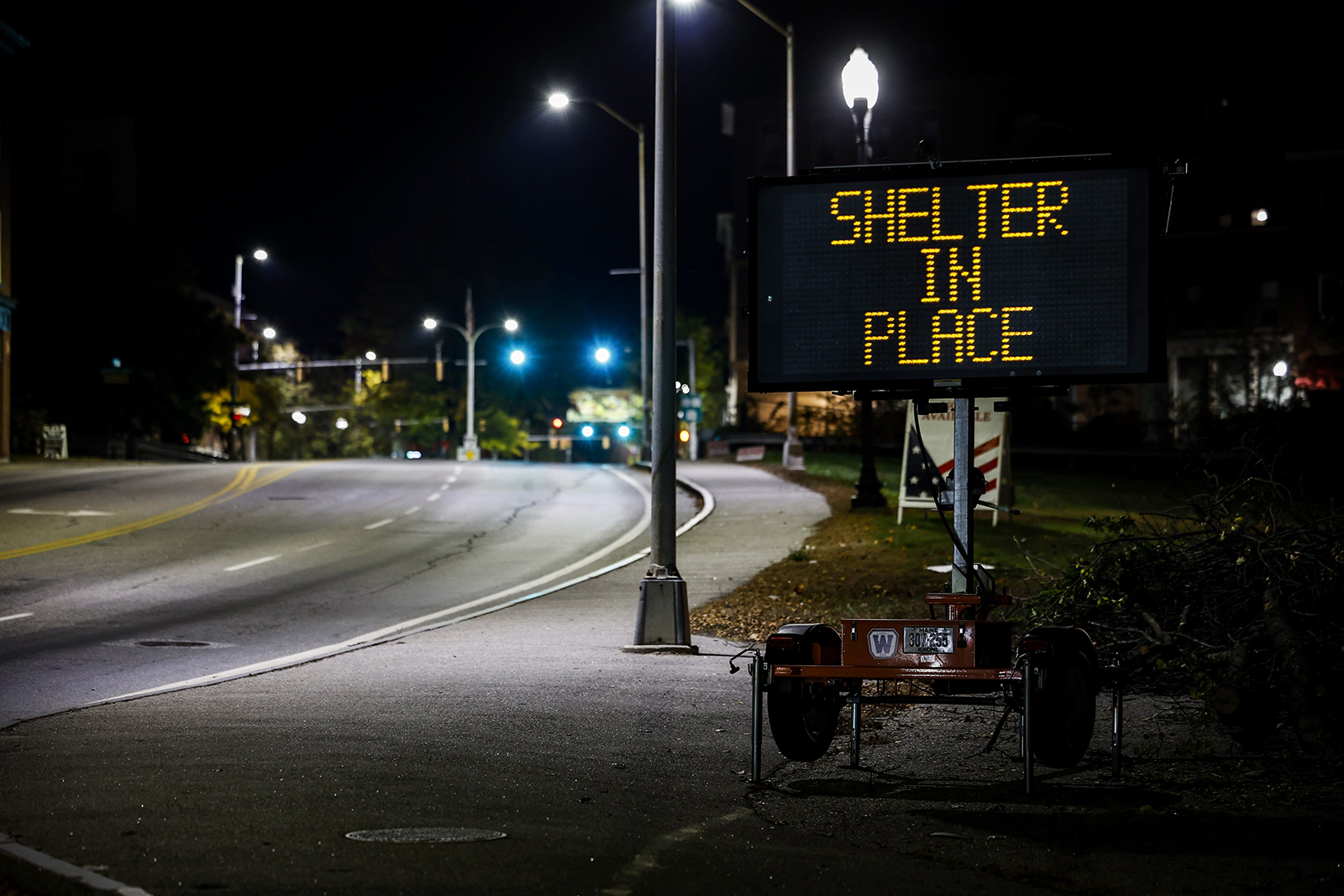 A road sign reads 'Shelter in Place' after a man reportedly opened fire killing and injuring numerous people in downtown Lewiston, Maine, on October 25. CJ GUNTHER/EPA-EFE/Shutterstock
Lewiston, Maine, is a small city — with a population of just 38,493 people as of last year, according to the US Census.
It's home to Bates College, a private liberal arts school, and is regularly ranked as one of America's safest cities.
"We know that these events have shocked and frightened our community. And we grieve for those whose lives were tragically lost in this heinous act of violence," Bates College said in a statement late Wednesday, referring to the mass shooting.
Lewiston is the second biggest city in Maine, after Portland, and sits on the banks of the Androscoggin River.
And though Maine is the whitest state in the nation, according to the 2020 census, immigrant communities have grown in size recently, as well as in other states including Minnesota, Ohio, and Washington.
Between 2017 and 2021, more than 7% of Lewiston residents were foreign-born, according to the census — still lower than the national average of nearly 14%. And in those years, 19% of Lewiston residents spoke a language other than English at home.
1 hr 2 min ago
From CNN's Chris Boyette and Joe Sutton
As police continue to search for a person of interest involved in the Lewiston shootings, which left at least 22 dead Wednesday night, local schools have announced they will cancel classes on Thursday. 
"There remains a lot of unknowns at this time. Information moves quickly but not always accurately. Please continue to shelter in place or get to safety. We will continue to update you with information and next steps as appropriate," Lewiston Public Schools said in a post.
"Stay close to your loved ones. Embrace them. Our prayers go out to those who lost someone tonight. Our prayers go out to all those working to stop further loss of life." 
A number of other nearby schools and districts also announced they would be closed or have classes canceled on Thursday:
1 hr 16 min ago
From CNN's Sharif Paget
Police respond to an active shooter situation in Lewiston, Maine, Wednesday, October 25. Robert F. Bukaty/AP
Town offices in Lisbon, which neighbors Lewiston, Maine, where the shootings took place Wednesday night, will be closed on Thursday as a manhunt continues for the suspect in two mass shootings.
"Law enforcement in Androscoggin County are investigating two active shooter events. All town offices will be closed on October 26th. Please prioritize safety and continue to shelter in place," the town website said.
The vehicle connected to Robert Card, identified by police as a person of interest, was located in Lisbon Wednesday night, according to Maine Department of Public Safety Commissioner Mike Sauschuck.
1 hr 11 min ago
From CNN's Sara Smart
Jason Levesque speaks during an interview. WGME
Witnesses of the shootings in Lewiston were of all ages, including teenagers, said Auburn Mayor Jason Levesque, adding that the community was in shock.
Auburn is a city less than 2 miles west of Lewiston.
Speaking to media outside a reunification center, Levesque said there was a lot of fear, panic and worry among residents there.
"You can train for this but you can never be completely prepared," Levesque said. "It's an all-hands-on-deck situation."
Speaking to CNN later that night, Levesque said he wasn't aware of any children among those killed — but knows one high school student who was wounded.
"Auburn and Lewiston are side by side … a river separates us. Combined, our population is around 60,000. You cannot help but know people who know someone, so this will impact every corner of our community," he said.
He described hearing more about what unfolded Wednesday night from eyewitnesses at the reunification center, including one man who was playing the lawn game cornhole when he heard "a couple pops … but didn't think anything of it, it is Halloween. Then he started seeing everybody scream and move."
Authorities across Maine are involved in the ongoing manhunt, with 40-year-old Robert Card identified as a person of interest.
This post has been updated with more comments from the mayor
1 hr 55 min ago
From CNN's Sara Smart
Mike Sauschuck, Commissioner of the Department of Safety, speaks during a press conference on Wednesday, October 25.  WMUR
A vehicle of interest was located in Lisbon, Maine, Mike Sauschuck, state commissioner for the Department of Public Safety, said during a news briefing Wednesday night.
Lisbon is about 8 miles southeast of the city of Lewiston, where the shooting unfolded earlier Wednesday.
Residents in Lisbon and Lewiston are being told to shelter in place as the manhunt for a person of interest, Robert Card, continues, he said.
Hundreds of officers continue to search for Card as he remains at large and is considered armed and dangerous, Sauschuck said.
Sauschuck noted the shootings began around 6:56 p.m. ET on Wednesday evening and there were multiple locations involved.
2 hr 15 min ago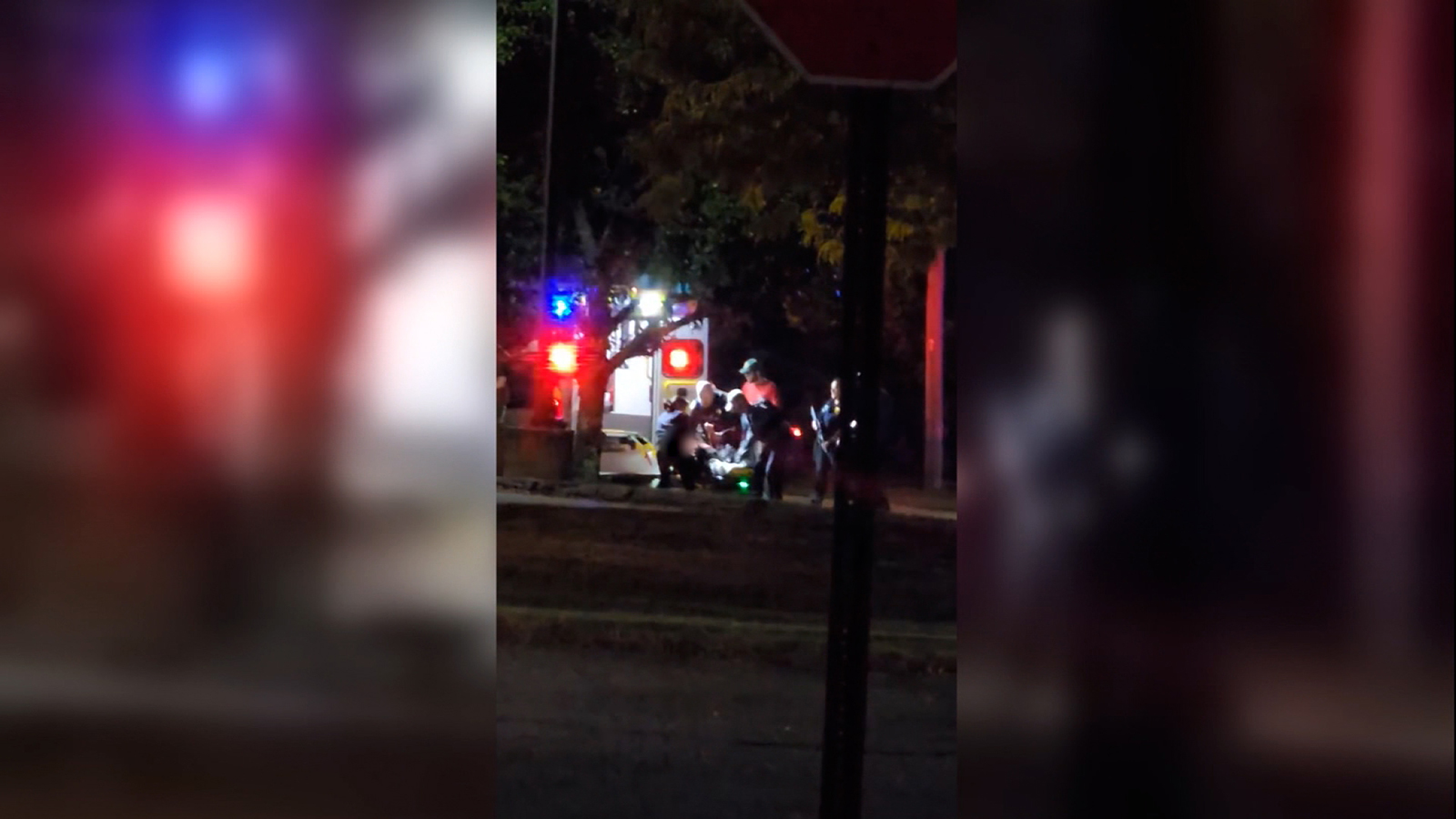 This picture shows a victim on a stretcher being loaded into an ambulance by first responders in Lewiston, Maine. Nichoel Wyman Arel
An eyewitness said that she saw "definitely more than a dozen" people leaving the bowling alley where one of the shootings in Lewiston, Maine, happened Wednesday evening.
Nichoel Wyman Arel described a large police and ambulance presence outside of Sparetime Recreation following the deadly incident. Arel said she saw officers patting people down as they came out of the bowling alley.
Arel was driving home with a friend from Girl Scouts when they came across the tragic scene. Arel captured footage of people being patted down and leaving the bowling alley.
She saw a person who looked like they "had blood all over them" but couldn't tell if they were injured themselves. "It's all kind of a blur. I wasn't really taking in a lot of the details," Arel said.
Arel also said that she saw children on the scene with their families.
"Yeah, there were kids, that's — Like, looking back, like that was probably the hardest part, seeing — just families, families pouring out of there and knowing that that happened in there while they were probably just trying to have a family night," Arel told CNN.
Arel's young daughter was with her when she witnessed the aftermath of the shooting.
"She was definitely scared. She's like — she started crying and said, 'This is a scary world we live in mom.' I'm like, 'I know.'"
When she got home, Arel said that she locked up the house, including windows. She owns a firearm which she said made her daughter "feel better to know that I was carrying it around."
Arel said that her daughter "was scared somebody was going to come into our home."
Lewiston residents are being told to continue to shelter in place.
3 hr 6 min ago
From CNN's Sara Smart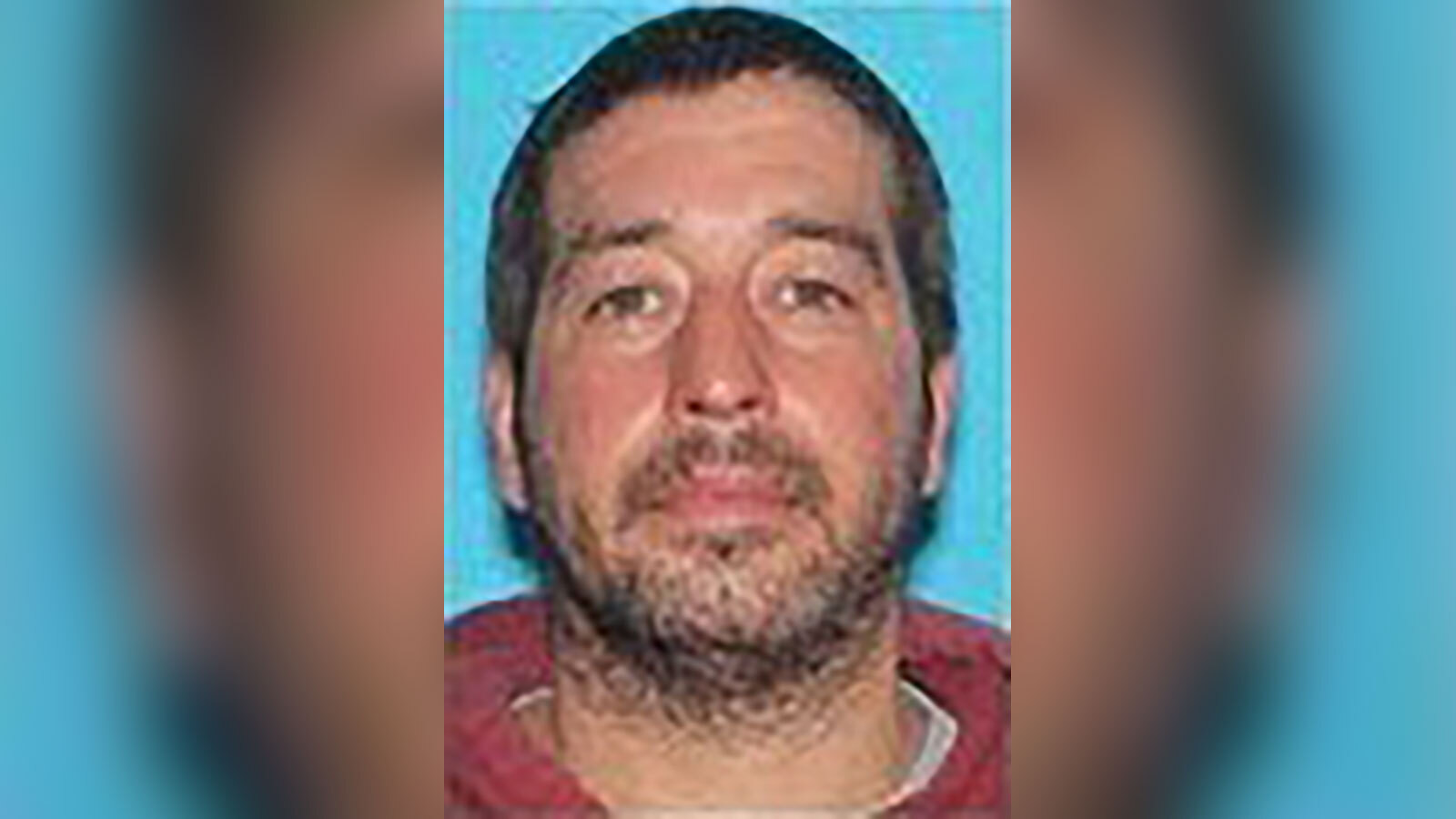 Lewiston Police Department identified Robert Card as a person of interest involved in the Lewiston shooting. Lewiston Police Department
The Lewiston Police Department has identified Robert Card as a person of interest in the two shootings in Lewiston.
Card is 40 years old and should be "considered armed and dangerous," according a Facebook post from the Lewiston Police Department.
Law enforcement officials in Maine describe Card as a certified firearms instructor and a member of the US Army Reserves.
Here's the full statement from Lewiston Police:
"Law Enforcement is attempting to locate Robert Card 4/4/1983, as a person of interest regarding the mass shooting at Schemengees Bar and Sparetime Recreation this evening. CARD should be considered armed and dangerous. Please contact law enforcement if you are aware of his whereabouts."
The New Hampshire State Police is assisting in the search for Card, including the use of its helicopter, state police spokesperson Amber Lagace said.
CNN's Joe Sutton contributed reporting to this post.
3 hr 46 min ago
From CNN's Donald Judd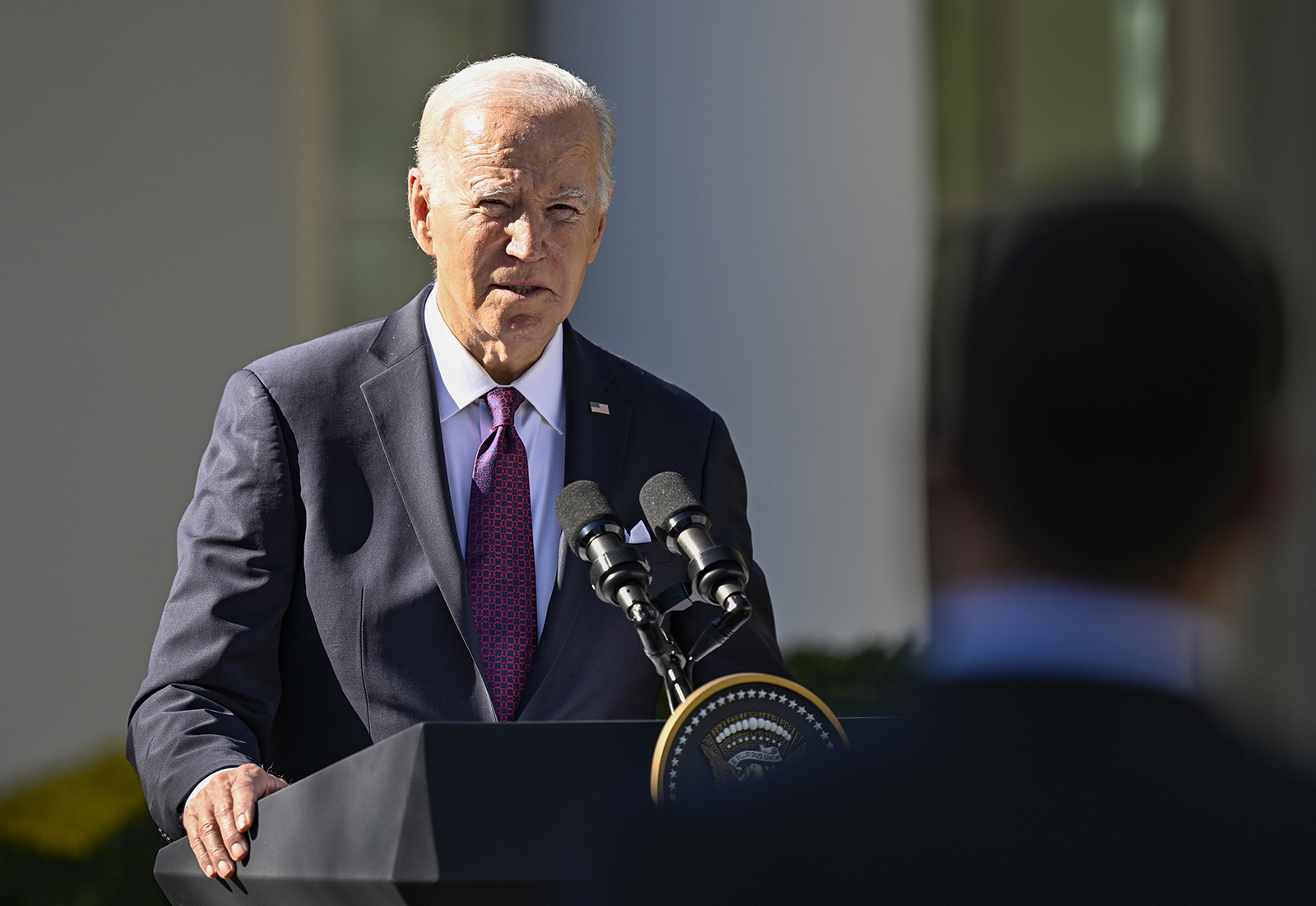 Joe Biden attends a conference at the White House in Washington D.C., on October 25. Celal Gunes/Anadolu/Getty Images
President Joe Biden spoke by phone with a number of Maine lawmakers in the wake of the mass shootings in Lewiston, Maine, the White House press office told pool Wednesday.
"The President spoke by phone individually to Maine Governor Janet Mills, Senators Angus King and Susan Collins, and Congressman Jared Golden about the shooting in Lewiston, Maine and offered full federal support in the wake of this horrific attack," the White House said in a statement.