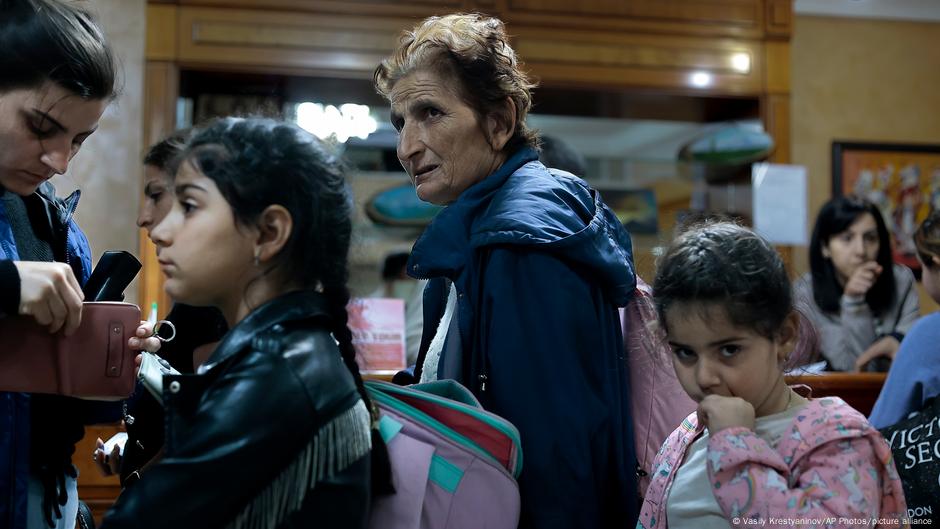 Published 09/25/2023

Published September 25, 2023
last updated 09/25/2023

last updated September 25, 2023
Fearing revenge from Azerbaijan, ethnic Armenians in Nagorno-Karabakh began leaving en masse. More than a thousand refugees have already arrived in Armenia.
Armenia on Monday prepared to receive more ethnic Armenians fleeing from neighboring Azerbaijan's breakaway region of Nagorno-Karabakh.
The Armenian government said on Sunday that more than 1,000 refugees from the enclave had arrived, following Azerbaijan's military operation to take control of the disputed region populated mainly by ethnic Armenians.
Media outlets in Russia, Armenia's long-standing ally, reported early Monday that nearly 3,000 people crossed from Nagorno-Karabakh into Armenia as of 5 a.m. local time (0100 GMT).
Eyewitnesses at the border told the Reuters news agency that Nagorno-Karabakh residents with access to cars and fuel were leaving the region in large numbers. After decades of conflict, local Armenians fear expulsion or revenge from authoritarian Azerbaijan.
"Families who are homeless after the recent military operation and who want to leave the republic will be taken to Armenia," the Armenian leadership in Nagorno-Karabakh's capital Stepanakert said on Sunday.
An ambulance convoy carrying 23 wounded Armenian soldiers made its way from Nagorno-Karabakh to Armenia. It was accompanied by the International Committee of the Red Cross (ICRC), the Armenian Health Ministry said.
Last Tuesday, Azerbaijan launched a military operation to seize Nagorno-Karabakh. Within a day, the Armenian fighters in the region surrendered.
According to Armenian sources, more than 200 people died during the brief fighting and more than 400 others were injured. Azerbaijan promised to allow the wounded to leave the region and go to Armenia.
Armenia urges UN to monitor human rights in Nagorno-Karabakh
Armenia on Saturday called for the deployment of a UN mission in Nagorno-Karabakh to monitor human rights and ensure the safety of ethnic Armenians in the region.
"The international community should undertake all the efforts for an immediate deployment of an interagency mission by the UN to Nagorno-Karabakh with the aim to monitor and assess the human rights, humanitarian and security situation on the ground," Armenian Foreign Minister Ararat Mirzoyan said in a speech to UN delegates in New York.
Azerbaijan has said it is committed to protecting the rights of ethnic Armenians in Nagorno-Karabakh. However, there are fears of persecution among the civilian population left behind in the breakaway region.
dh/kb (AFP, dpa, Reuters)