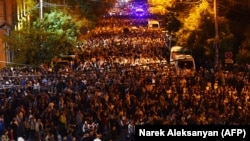 Armenians take part in an anti-government protest in central Yerevan on September 24.
Thousands of ethnic Armenians continue to clog roads leading to Armenia from Nagorno-Karabakh, where new reports say a powerful explosion at a fuel depot has led to multiple deaths and injuries, with local health officials struggling to deal with the disaster.
Separatist officials in Karabakh said the blast occurred at a fuel warehouse near the Stepanakert-Askeran Highway and that rescue crews are at the site.
Details remain scarce and the cause is not yet known. Officials said most of the injured must be air-lifted to other sites where health facilities can handle the high number of casualties.
The reports come as Armenia struggles to deal with a flood of refugees fleeing Karabakh following Azerbaijan's victory over separatist forces there.
Armenia's government said that as of 5 p.m. local time on September 25, at least 6,650 refugees had entered the country, while de facto officials inside Nagorno-Karabakh said gas stations would provide free fuel for those making the move.
Unrest mounted on the streets of Yerevan, where dozens of demonstrators were detained after they blocked streets to protest the policies of Prime Minister Nikol Pashinian.
Meanwhile, top officials from the U.S. administration arrived in Yerevan on September 25 to meet with Armenian leaders. Among the group were U.S. Agency for International Development (USAID) chief Samantha Power and State Department official for the region Yuri Kim.
WATCH: Almost 5,000 people from Nagorno-Karabakh had crossed into Armenia as of midday on September 25, according to the Armenian government as it rushed to accommodate the influx of refugees.
"The United States is deeply concerned about reports on the humanitarian conditions in Nagorno-Karabakh and calls for unimpeded access for international humanitarian organizations and commercial traffic," USAID said in a statement.
The first of several hundred refugees from the region began arriving in Armenia on September 24, with Nagorno-Karabakh leaders saying nearly all of the estimated 120,000 ethnic Armenians are likely to leave as soon as possible, saying they did not want to live under Azerbaijani control even though Baku has vowed to protect the rights of civilians there.
WATCH: Opposition supporters protested at several locations in the Armenian capital, Yerevan, on September 25.
"The authorities [of Nagorno-Karabakh] will continue to stay in place and implement state administration until they fully ensure the process of transporting citizens who wish to go to Armenia," a statement by the de facto government said.
"Due to traffic jams, it is currently not possible to organize the transport of seriously and extremely seriously injured people."
As Armenia began accepting refugees, anger over the quick loss of the region last week continued to spill out in the streets of Yerevan.
Media reports quoted police as saying more than 200 protesters had been detained so far on September 25, with reports from RFE/RL correspondents in Yerevan saying the protests continue, with groups of people roaming the streets urging others to join them.
Photo Gallery:
The unrest comes as Turkish President Recep Tayyip Erdogan met his ally, Azerbaijani President Ilham Aliyev, in Azerbaijan's autonomous Naxcivan exclave — a strip of Azerbaijani territory nestled among Armenia, Iran, and Turkey — to discuss the situation in Nagorno-Karabakh.
Erdogan insisted Baku's victory in last week's offensive in Nagorno-Karabakh opened a window of opportunity for normalization of relations in the wider region. He called Azerbaijan's actions "a source of pride" for Tukey.
Aliyev again vowed to protect the rights of Karabakh's Armenians, even as the flood of refugees toward Armenia mounted.
Erdogan and Aliyev again discussed the idea of creating a land corridor through Armenian territory to Naxcivan, thus linking their two countries — a plan Armenia has long rejected. The project, if put in place, would likely intensify political pressure on Pashinian from his opposition. Pashinian has been on rocky political footing since overwhelming Azerbaijani forces retook much of the territory in and around Nagorno-Karabakh held for decades by ethnic Armenians in a six-week war in late 2020 that led to a Russian-brokered cease-fire.
Discontent over his leadership grew after the breakaway leadership in Nagorno-Karabakh was thrashed last week by a lightning Azerbaijani offensive that led Baku to declare victory in returning its sovereignty to the territory.
Pashinian and many Armenians blame Russia — which has traditionally served as Armenia's protector in the region — for failing to use its peacekeeping force to protect ethnic Armenians in Karabakh.
Armenia is a member of the Collective Security Treaty Organization (CSTO) that Russia has tried to position as a counterweight to NATO, although as recently as this month its armed forces were conducting exercises with U.S. forces.
State Department spokesman Matthew Miller told reporters in Washington on September 25 that Moscow had shown "that it cannot be relied on as a security partner" following its failure to support Armenians in Karabakh.
The Russian peacekeepers have been in place since a cease-fire that ended six weeks of fighting in 2020 in which Azerbaijan recaptured much of the territory and seven surrounding districts controlled since the 1990s by ethnic Armenians with Yerevan's support.
With reporting by AFP