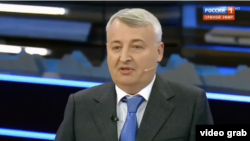 Ukrainian former lawmaker Serhiy Polishchuk reportedly took money from Russian security authorities in exchange for an appearance on Russian television in which he denied the existence of Ukraine.
The Ukrainian Security Service (SBU) says former lawmaker Serhiy Polishchuk, who is currently out the country, is suspected of high treason for his appearances on Russian television where he "denied the existence of Ukraine" while allegedly taking money from Russian security authorities.
According to the SBU, Polishchuk notably was a guest on the show 60 Minutes, where he "supported the Kremlin's aggressive policies against Ukraine, publicly denied the existence of Ukraine's statehood, and spread the enemy's statements about ideological differences between Ukrainians."
An SBU statement on September 12 said that Polishchuk also is suspected of violating citizens' racial, ethnic, and religious equality.
"It was established that for the specified actions he received a significant monetary reward from the representatives of the aggressor country," the statement said.
"To disguise the 'transaction,' its organizers from the Russian Federation made the payment through financial institutions of third countries," it added.
The SBU did not specify what evidence it had to back up the claim. Polishchuk has not commented publicly yet on the statement.
Last month, a court in Kyiv issued an arrest warrant on a high treason charge for another pro-Russian Ukrainian lawmaker, Vadym Rabinovych, who is also currently outside of Ukraine.
In late July, Oleksandr Ponomaryov, who like Rabinovych is a lawmaker for the OPZZh party, was arrested on a high treason charge.
Also in July, the SBU said another former Russian-friendly lawmaker, Yevhen Murayev, was also suspected of high treason. Murayev, 46, is also out of Ukraine currently. According to the SBU, Murayev used his Nashi (Ours) television channel, which is now banned in Ukraine, to promote Russian propaganda.
On July 25, a court in Kyiv sent lawmaker Oleksandr Ponomaryov, who is also an OPZZh member, to pretrial detention on a high treason charge.
In May, the SBU announced that another OPZZh member and former lawmaker, Oleh Voloshyn, was suspected of high treason. Voloshyn fled Ukraine for Russia shortly before Moscow launched its invasion of Ukraine last year.
In June 2022, a court in Ukraine banned OPZZh, which was founded and led by Viktor Medvedchuk, a longtime Ukrainian political fixture and reportedly a godfather to Russian President Vladimir Putin's daughter.
Medvedchuk was arrested in 2021 on charges of treason and terrorism financing and later placed under house arrest on bail.
Shortly after Russia launched its invasion, Medvedchuk escaped house arrest but was rearrested in April while trying to flee to Russia.
In September 2022, Ukrainian authorities handed the 68-year-old politician over to Russia in a prisoner exchange.