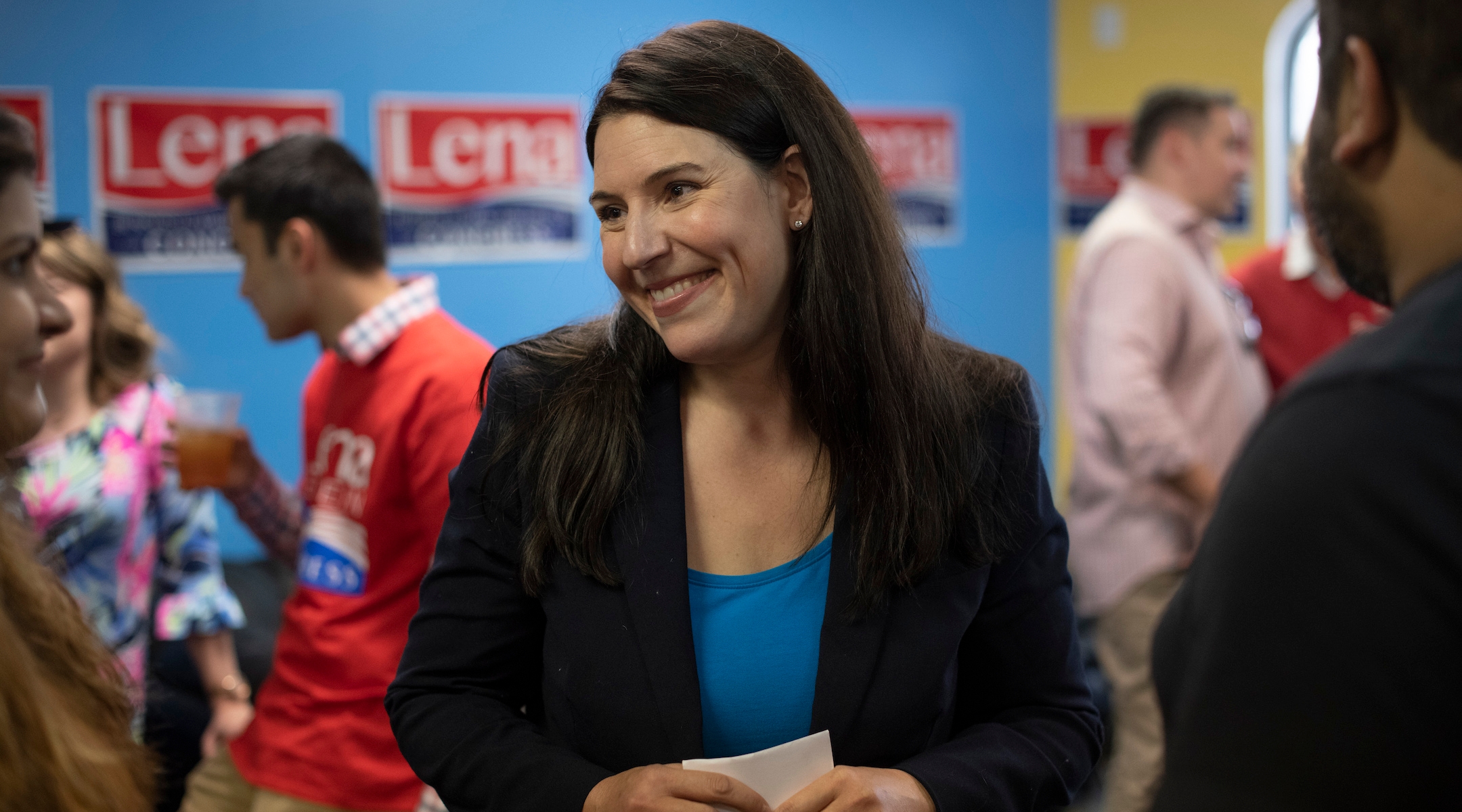 (JTA) – A candidate for chair of the Michigan Republican Party who faced criticism after inviting a Messianic "rabbi" to offer a prayer for the victims of the Pittsburgh synagogue shooting in 2018 has now announced that she is a "Jewish Messianic believer of Christ."
Lena Epstein, who was raised Jewish, made the comments Tuesday at a candidate forum hosted by the conservative group Ottawa County Patriots at a Baptist church in Holland, Michigan. She said her running mate for party co-chair, Pastor Donald Eason of Metro Church of Christ in Sterling Heights, Michigan, was the one who had "baptized me into the Christian faith."
Epstein, the general manager of an oil corporation, was the co-chair of President Donald Trump's successful 2016 campaign in her state. She then ran for Congress in 2018 and for the University of Michigan Board of Regents last year but lost both races.
During her 2018 congressional race, Epstein initially highlighted her roots in the Detroit area Jewish community. But a rift emerged after the Pittsburgh shooting, when she appeared onstage with a Messianic "rabbi" and then-Vice President Mike Pence, who were offering a prayer for the 11 Jewish victims of the attack. The event drew heavy criticism from Jews in Michigan and beyond, and the vice president's office said Epstein was the one who had invited the rabbi.
Epstein defended her decision at the time by tweeting, "I invited the prayer because we must unite as a nation — while embracing our religious differences — in the aftermath of Pennsylvania."
A group of Jews across different parties, including several whom she grew up with, subsequently took out an ad in the Detroit Jewish News urging local Jews not to vote for her in that election. 
"Lena Epstein has chosen a side. It's not ours," the ad read.
Now, it seems that Epstein has indeed chosen to align herself with non-Jews. Messianic Judaism is a movement whose followers believe in the divinity of Jesus while claiming to practice Judaism; missionary work is part of Messianic practice, and Messianic groups often have ties to explicitly Christian organizations. A 2021 Pew Research Center study of American Jews estimated that about 200,000 Americans identify as Messianic Jews.
In her Tuesday speech, Epstein did not say when she was baptized, but Eason said in his own speech that it had happened prior to her current campaign. "I baptized her into Christ, so when she asked me to be her co-chair, could I really say no?" he said. Eason added that, through his church organization, he had brought Christian nationalist David Barton to speak, and was met with applause. 
Epstein did not respond to a request for comment.
Online, Epstein has continued to present herself as Jewish. Her Instagram shows that she has visited her daughter's suburban Detroit private school, Cranbrook, in recent months to read stories about Yom Kippur and Hanukkah to students. Epstein has previously identified herself as "a Jewish millennial female who is supporting Trump."
Elsewhere in her Ottawa County address, Epstein highlighted her family's history of experiencing antisemitism, saying, "My family fled religious persecution from Eastern Europe." She added, "Today I stand before you as a fourth-generation American with the religious freedom to be a Messianic Jewish believer, to have a 5-year-old daughter that I'm raising in our faith."
The election for Michigan GOP chair will be held at the state party convention, Feb. 17 and 18 in Lansing. Epstein is running to replace departing chair Ron Weiser, a Jewish Republican. While Epstein had the full endorsements of the Republican Party for her last two campaigns, as well as that of Trump for her 2018 Congress run, this time she is running against 10 other candidates, all vying to lead a party that lost every major state office race and control of both houses in Michigan's 2022 midterm elections. 
Among them are frontrunners Matthew DePerno, a former attorney general candidate who is under investigation for allegedly plotting to seize and tamper with the state's voting machines, and Kristina Karamo, a former secretary of state candidate who has denied the results of the 2020 election and sued in an attempt to stop absentee ballots in Detroit from being counted in 2022.
Epstein has also embraced election denial rhetoric, telling Republicans that election fraud is a "big problem" and that liberal counties have engaged in ballot "dumping." She has been endorsed by Rudy Giuliani in her race.
She was also arrested in September 2021 for suspected domestic assault, though no charges were filed.
This article originally appeared on JTA.org.
The post Michigan GOP candidate who was raised Jewish now says she's a Messianic Jew appeared first on The Forward.