Saved Stories – None
Puerto Rico Pledges to Go All-Renewable by 2050
Nuclear Advocates Set Sights on Advanced Reactors for Puerto Rico
Puerto Rico Pledges to Go All-Renewable by 2050 – Scientific American
First Phase Begins for Solar, Energy Efficiency Project at Río Piedras market
We'll Reduce Carbon Footprint 50% in 5 Years, Pledges Puerto Rico Governor – Environmental Leader
Retail Stores Win Back Shoppers, Not Profits – Wall Street Journal
Amazon warehouse workers in Europe protest on Black Friday, calling working conditions 'inhuman' – CNBC
November 6, 2018
November 7, 2018
November 18, 2018
November 20, 2018
November 22, 2018
Head of Russia's GRU Spy Agency Dies
U.K. Inches Toward a Smooth Brexit, but Domestic Opposition Remains
Oil tumbles below $60 as Trump heaps pressure on Saudi Arabia – Financial Times
Israeli named by Trump Russia probe convict dismisses 'absurd' spy allegations – The Times of Israel
With honey instead of vinegar, Pelosi steadily inches toward the speaker's gavel – Washington Post
Photos: Coldest Thanksgiving on record chills Northeast, while heavy snow blankets western US – AccuWeather.com
PM faces parliamentary 'war of attrition' to deliver Brexit – Reuters
Trump Re-Election Bid Imperiled By Stagnating Electoral Base – Yahoo News
Facebook fights £500000 ICO fine over Cambridge Analytica – Alphr
Test Feed Using Fields: Stealth Problems?: A Russian Su-35 Reportedly Took a Picture of an F-22. Why That Might Be a Problem.
Noticias de Puerto Rico | The Puerto Rico Times
Puerto Rico's Colonial Heritage – Puerto Rico Report
9:06 AM 11/23/2018 – Nuclear Advocates Set Sights on Advanced Reactors for Puerto Rico – Saved Stories Review
 –
Saved Stories – None
Puerto Rico Pledges to Go All-Renewable by 2050
---
Puerto Rico has ambitious plans to transform its hurricane-battered electric grid to rely entirely on renewable energy by 2050.
The move is part of a multimillion-dollar program to reduce the U.S. territory's carbon footprint and make it more climate resilient, Puerto Rican Gov. Ricardo Rosselló announced yesterday.
The clean energy goal is one of 10 measures included in the newly released 
plan
 dubbed the "Puerto Rico Pledge for Climate Change."
Other measures involve taking steps to mitigate coastal erosion, including the planting of 500,000 trees in coastal habitats with hopes of reducing the effects of sea-level rise on shoreline communities, where most Puerto Ricans live and work.
"Puerto Rico is especially vulnerable to the effects of climate change due to its geographical location," said Rosselló, 39, one of the nation's youngest governors and a biochemical engineer with degrees from the Massachusetts Institute of Technology and the University of Michigan.
"When I was born, the city of San Juan could expect to have about 21 days per year at or above 90-degree heat. Today, the number of days at or above 90-degree heat is 104, a massive increase of 395 percent," Rosselló added. "Climate change is not only real, it is the most important issue of our generation and it's our responsibility to tackle it."
The pledge also calls on Puerto Rico to initiate a major capital spending program on climate resilience and to adopt a new building code to help houses and buildings better withstand elevated temperatures, rising seas and stronger hurricanes.
More details about the pledge, including how its goals would be achieved, were not immediately available. A spokesman for the Puerto Rico Federal Affairs Administration in Washington said a committee led by Secretary of Natural and Environmental Resources Tania Vázquez was developing a blueprint for implementation.
A spokeswoman for Jenniffer González-Colón, Puerto Rico's delegate to the U.S. House of Representatives, said the Republican lawmaker was traveling in Europe and unavailable for comment.
Enrique Fernández-Toledo, director of the Puerto Rico Relief and Economic Policy Initiative at the Center for American Progress, said he hopes Rosselló quickly follows up on his pledge with action.
"Puerto Rico is one of the most vulnerable places to the impacts of climate change under U.S. jurisdiction," said Fernández-Toledo.

Sign up for Scientific American's newsletters.
Independent observers and experts, while supportive of the government's pledge, said it may be difficult for Puerto Rico to make the kinds of sweeping reforms and investments included in the climate pledge, given the island's physical and financial condition.
"The devil is in the details," said one observer who works on Puerto Rico resilience and who commented on background, adding that the government has little or no capital to invest toward the goals and that the private sector and nonprofit organizations "will have to do the heavy lifting."
Recent government efforts to privatize the island's electric power sector could also spark debates about how best to meet Puerto Rico's future electricity needs, with some experts arguing that natural gas is a more likely energy fuel in the near term.
Rosselló is one of 17 U.S. governors constituting the U.S. Climate Alliance, whose members have pledged their states to meet carbon emissions reductions sought by the Paris accord.
The clean energy goal calls for meeting 40 percent of all electricity with wind and solar power by 2023. It also calls for the island to slash its overall carbon footprint in half in the next five years.
A 2014 baseline emissions study found that the vast majority of Puerto Rico's greenhouse gases come from three sectors: energy, transportation and industry, with smaller amounts from agriculture, forestry and waste management activities.
A bill to convert Puerto Rico to 100 percent renewable energy is pending in the Puerto Rico Legislature. If passed, it could dramatically change the island's electric power sector, which has relied almost entirely on imported fuels to run power plants.
Before Hurricane Maria destroyed the island in September 2017, 47 percent of the island's power generation came from oil-burning plants, while 34 percent came from natural gas plants and 17 percent came from coal, according to the U.S. Energy Information Administration.
Last June, lawmakers in San Juan passed a bill to privatize the Puerto Rico Electric Power Authority and give more power to an independent commission that oversees the island's power sector (
Energywire
, June 14). Rosselló has been supportive of such measures.
But the Puerto Rican government has come under scrutiny recently for failing to produce an updated disaster recovery plan, even though officials said one existed and was being kept secret to protect vulnerable infrastructure and other sensitive details.
A lawsuit filed by Puerto Rico's Center for Investigative Journalism led officials to concede last month that that plan doesn't deal with catastrophic events such as hurricanes and earthquakes (
Climatewire
, Nov. 7).
Reprinted from Climatewire with permission from E&E News. E&E provides daily coverage of essential energy and environmental news at www.eenews.net.
Nuclear Advocates Set Sights on Advanced Reactors for Puerto Rico
---
Puerto Rico does not currently have any operating nuclear reactors, but it once had the Boiling Nuclear Superheater Reactor Facility, an experimental reactor in Rincón, which operated at full power in 1965 but stopped about three years later due to technical difficulties and the resulting expensive changes that would be required. It was decommissioned, and decontamination work continued into the early 2000s.
While some environmentally conscious scientists recently swapped their past opposition to nuclear energy in favor of its benefits to the climate, other environmentalists have balked at the idea.
"Nuclear energy is not clean energy," and previous attempts to build it in Puerto Rico led to contamination, Adriana Gonzalez, an environmental justice organizer with Sierra Club Puerto Rico, said through a spokesman by email. "What the people of Puerto Rico want is reliable, affordable clean energy like rooftop solar and wind."
Despite the House resolution to seek further study of nuclear energy, other recent Puerto Rican legislation under consideration makes no explicit mention of the power source. Two bills that seek to transition the island to 100 percent renewable generation by 2050 — one of which has passed both chambers — do not name nuclear energy, though they don't appear to exclude it from consideration.
And a June Energy Department
report
 on energy resilience options for Puerto Rico excluded nuclear energy, while noting the benefits of photovoltaic solar, energy efficiency projects and energy storage.
Meanwhile, CINTAC, in a March 2018
position paper
, extolled the potential for nuclear on the island.
Puerto Rico Pledges to Go All-Renewable by 2050 – Scientific American
First Phase Begins for Solar, Energy Efficiency Project at Río Piedras market

Effort led by Solar Foundation and Clinton Foundation through Solar Saves Lives, is made possible by $1.1 million from the Hispanic Federation and the Center for Disaster Philanthropy
We'll Reduce Carbon Footprint 50% in 5 Years, Pledges Puerto Rico Governor – Environmental Leader
Retail Stores Win Back Shoppers, Not Profits – Wall Street Journal
Amazon warehouse workers in Europe protest on Black Friday, calling working conditions 'inhuman' – CNBC
November 6, 2018

A look at the best news photos from around the world.
November 7, 2018

A look at the best news photos from around the world.
November 18, 2018

A look at the best news photos from around the world.
November 20, 2018

A look at the best news photos from around the world.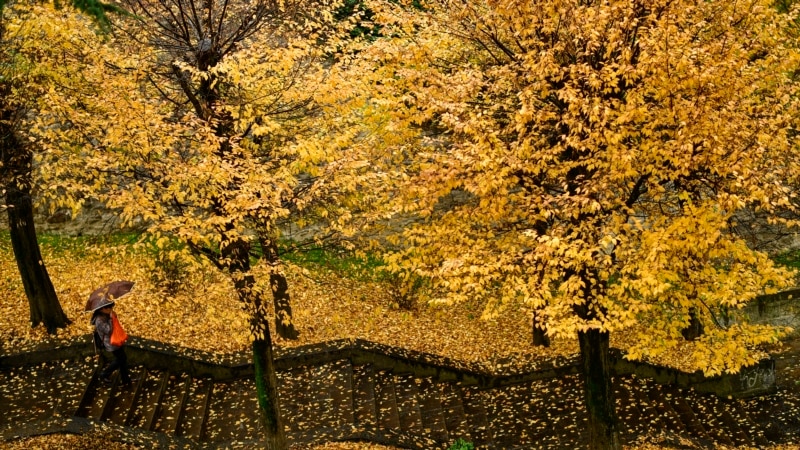 November 22, 2018

A look at the best news photos from around the world.
Head of Russia's GRU Spy Agency Dies

The head of the Russian intelligence agency that the West says meddled in the U.S. presidential elections in 2016 has died. The demise of Igor Korobov, 62 years old, follows his predecessor's sudden death almost three years ago.
U.K. Inches Toward a Smooth Brexit, but Domestic Opposition Remains

EU and U.K. negotiators agreed on the outlines of future ties, a document British Prime Minister Theresa May hopes to use to rally domestic support for her Brexit deal.
Oil tumbles below $60 as Trump heaps pressure on Saudi Arabia – Financial Times
Israeli named by Trump Russia probe convict dismisses 'absurd' spy allegations – The Times of Israel
With honey instead of vinegar, Pelosi steadily inches toward the speaker's gavel – Washington Post
Photos: Coldest Thanksgiving on record chills Northeast, while heavy snow blankets western US – AccuWeather.com
The Puerto Rico Times